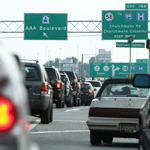 Facebook Twitter Flickr YouTube RSS Feed
Archived Posts From: 2012
Written on: November 19th, 2012 in Route 26
On October 11, 2012, DelDOT sent 194 surveys via certified mail to the property owners within the SR26 Mainline project limits. The survey is required by law in Delaware when DelDOT is considering doing road work during night time hours. According to the law, however the majority vote determines whether or not night work will be permitted. Also according to the law, each survey that is sent that DelDOT does not receive a response for is considered a vote supporting night work.
The deadline for responding to the survey was November 15, 2012 and the results of the survey have been tallied. Of the 194 surveys sent, DelDOT received 77 responses – 68 supporting night work and 9 not supporting night work. 117 surveys were not returned.
Based on the survey results, DelDOT will incorporate night work into it's plans for SR26. DelDOT is thankful to those who participated in the survey.
Written on: November 19th, 2012 in Archaeology Updates, US301
This week we finished stripping the topsoil from the Noxon Tenancy Site and started working on our features. Before archaeologists dig into a feature, it is always photographed, mapped, and drawn.  So we made a careful map of the site, took the necessary pictures, and then began excavating.
Interesting things started to turn up at once: cow and pig bones, pieces of pottery, even a clay marble. One of our first features contained a large amount of daub. Daub is clay that has been cooked, but not enough to turn it into brick or pottery. On a colonial farm site like the Noxon Tenancy, daub usually comes from a wooden chimney. There is very little brick on the site, not enough to make a chimney, so we already suspected that the house had a wooden chimney. These were always lined with clay, which eventually turned to daub, so all of this daub confirmed our suspicion. As you might imagine, wooden chimneys were not very safe. No matter how carefully they were lined, the clay eventually flaked off or cracked, a spark slipped through, and the whole thing burst into flames. The people who  lived at our site never got around to replacing their wooden chimney with brick or stone, which suggests that they did not live at the site for very long.
One of the artifacts that came out in the first days was a small bowl with a handle, a shape that people in the 1700s called a "porringer." A porringer was made to be held in the hand while you were eating. They were a very old form, and they remind us that in the Middle Ages most people did not eat at a table. They ate sitting around a hearth, holding their food in their hands or on their laps. Dining at a table was reserved for the rich, or for formal occasions. Over the course of the 1600s and 1700s more and more people came to eat their meals in that formal way, lifting food to their mouths with new invention called a fork instead of with their hands or their pocket knives, not spitting or picking their teeth at the table, and so on. This artifact is a reminder of the old way of eating and living that was slowly giving way to more refined manners.