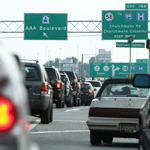 Facebook Twitter Flickr YouTube RSS Feed
Archived Posts From: 2012
Written on: November 28th, 2012 in Elkton Road
The Elkton Road Project, from Gravenor Lane to Delaware Avenue in the City of Newark, is getting close to being completed. There is approximately two to three weeks more of milling remaining as well as the placement of the top surface of hot mix. After all of the hot mix is placed, the final striping will need to be installed which would take approximately one week to complete.
 Hopefully, the winter weather conditions will allow us to complete all of the final hot mix placement and the final striping. Unless there is a severe winter storm we will be able to complete the hot mix. However, the final striping is more temperature sensitive, and we may have to use temporary striping in order to open all of Elkton Road into its final configuration, and wait until the weather improves enough in the Spring 2013 to allow us to place the final striping at the required air temperatures.
At the end of this week all of the landscaping plants will have been installed, and the only remaining landscaping work will involve touching up the mulch in the planting beds.