Category: I-95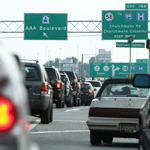 Facebook Twitter Flickr YouTube RSS Feed
Written on: January 4th, 2014 in Alert Messages, Elkton Road, Ellendale, Georgetown, I-95 Delaware Toll Plaza, I95/SR1 Interchange, Indian River Inlet Bridge, Kent, Milford, Millsboro, New Castle, Route 1, Route 26, Route 40, Route 54, Safety, Sussex, US113, US301, Weather Related Notices
Freezing rain could affect Delaware roads Sunday morning. According to the Delaware Department of Transportation, New Castle County faces a 30 percent to 40 percent chance of freezing rain between 4 a.m. and 8 a.m. Kent County faces a 30 percent chance of freezing rain between 12 a.m. and early morning. And Sussex County faces […]
Read More
Written on: January 3rd, 2014 in Alert Messages, Elkton Road, Ellendale, Georgetown, I-95, I-95 Delaware Toll Plaza, I95/SR1 Interchange, Indian River Inlet Bridge, Kent, Milford, Millsboro, New Castle, Railroad Crossings, Route 1, Route 26, Route 40, Route 54, Safety, Sussex, US113, US301, Weather Related Notices
As darkness and dropping temperatures slowed progress, the Delaware Department of Transportation scaled back road-clearing crews in New Castle County shortly after sunset. DelDOT will reduce road-clearing crews in Kent County at 8 p.m. and will reduce road-clearing crews in Sussex County at 9 p.m. Partial crews will remain on duty throughout the night to monitor […]
Read More
Written on: January 3rd, 2014 in Alert Messages, Elkton Road, Ellendale, Georgetown, I-95, I-95 Delaware Toll Plaza, I95/SR1 Interchange, Indian River Inlet Bridge, Kent, Milford, Millsboro, New Castle, Railroad Crossings, Route 1, Route 26, Route 40, Route 54, Safety, Sussex, US113, Weather Related Notices
Across Delaware, DelDOT crews continue to battle drifting snow and frigid temperatures. The major challenges now are winds that blow the snow back into the roadways and low temperatures that cause the road salt to be less effective. Primary and secondary roads statewide are covered in a thin layer of packed snow and ice. Despite […]
Read More
Written on: January 3rd, 2014 in Alert Messages, Elkton Road, Ellendale, Georgetown, I-95, I-95 Delaware Toll Plaza, I95/SR1 Interchange, Indian River Inlet Bridge, Kent, Milford, Millsboro, New Castle, Railroad Crossings, Route 1, Route 26, Route 40, Route 54, Safety, Sussex, US113, US301, Weather Related Notices
As of 4:30 a.m., the National Weather Service reports that steady precipitation is ending. No new accumulation is expected, although snow flurries could linger for a couple of hours. Temperatures might drop as low as 0 as the day progresses. Temperatures well below freezing and high winds will likely contribute to hazardous driving conditions. Snowfall […]
Read More
Written on: January 3rd, 2014 in Alert Messages, Elkton Road, Ellendale, Georgetown, I-95, I-95 Delaware Toll Plaza, I95/SR1 Interchange, Indian River Inlet Bridge, Kent, Milford, Millsboro, New Castle, Railroad Crossings, Route 1, Route 26, Route 40, Route 54, Safety, Sussex, US113, US301, Weather Related Notices
As of 4:07 a.m., the Delaware Department of Transportation reports that all of its snow-removal crews are active, plowing and salting roads while precipitation continues to fall on New Castle, Kent and Sussex counties. Four to six inches of snow lie upon roads in New Castle . Four to seven inches of snow lie upon […]
Read More
Written on: January 3rd, 2014 in Alert Messages, Elkton Road, Ellendale, Georgetown, I-95, I-95 Delaware Toll Plaza, I95/SR1 Interchange, Indian River Inlet Bridge, Kent, Milford, Millsboro, New Castle, Railroad Crossings, Route 1, Route 26, Route 40, Route 54, Safety, Sussex, US113, US301, Weather Related Notices
As of 12:20 a.m., Delaware roads are covered with snow as deep as four inches in parts of New Castle and as little as half an inch in parts of Sussex. All DelDOT snow-removal crews are busy, plowing snow and spreading salt on primary roads, secondary roads, bridges and bus routes.
Read More
Written on: July 11th, 2013 in I-95, I95/SR1 Interchange
The northbound I-95 to northbound Route-7 ramp was opened in May 2013. Structural steel beams for the bridges was delivered throughout the spring and is all in place. Construction continues on the rest of the bridges, decks, overpasses, roadway paving, and retaining walls.  The project is about 80 % completed.  The northbound Route-1 to northbound I-95 flyover ramps […]
Read More
Written on: January 25th, 2012 in I95/SR1 Interchange
Christiana Mall Road Bridge: All three deck pours are complete.  This week the contractor will be preparing for the parapet wall construction.  The goal is to open the new bridge to traffic in mid to late March, but that date is very weather dependent. For more information, please visit the project website at i95.deldot.gov.
Read More
Written on: September 26th, 2011 in I95/SR1 Interchange
Limited work activities such as clearing, and installation of erosion and sediment control measures Christiana Mall Rd. Bridge: The pier and abutment wall work is complete and waiting for the steel girders to be delivered (Scheduled to be delivered on 9/27/11).  Other activities such as roadway construction and bridge painting activities continue as well.  We […]
Read More
Written on: August 29th, 2011 in I95/SR1 Interchange
It is expected that work will begin in mid-September, 2011 and continue until October 2013. Christiana Mall Bridge The abutments and center pier are completed.  We are expecting the steel beams that will cross over SR 1 to be delivered in mid-September.  The contract is expected to be complete by the end of 2011. For […]
Read More