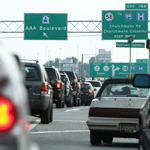 Facebook Twitter Flickr YouTube RSS Feed
DelDOT Battles Drifts And Near-Zero Temperatures
Written on: January 3rd, 2014 in Alert Messages Elkton Road Ellendale Georgetown I-95 I-95 Delaware Toll Plaza I95/SR1 Interchange Indian River Inlet Bridge Kent Milford Millsboro New Castle Railroad Crossings Route 1 Route 26 Route 40 Route 54 Safety Sussex US113 Weather Related Notices
Across Delaware, DelDOT crews continue to battle drifting snow and frigid temperatures. The major challenges now are winds that blow the snow back into the roadways and low temperatures that cause the road salt to be less effective.
Primary and secondary roads statewide are covered in a thin layer of packed snow and ice.
Despite these challenges, more than 400 men and women, employed by DelDOT, continue treating the roads with salt and plowing the snow. These crews worked all day yesterday, and through the night.
Residents are urged to stay off the roads if possible. Not only is it safer for residents, but it allows DelDOT crews more area in which to work safely.
Tags:
#snowDE
,
#stormDE