Category: Elkton Road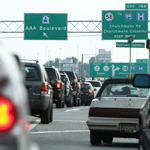 Facebook Twitter Flickr YouTube RSS Feed
Written on: January 4th, 2014 in Alert Messages, Elkton Road, Ellendale, Georgetown, I-95 Delaware Toll Plaza, I95/SR1 Interchange, Indian River Inlet Bridge, Kent, Milford, Millsboro, New Castle, Route 1, Route 26, Route 40, Route 54, Safety, Sussex, US113, US301, Weather Related Notices
Freezing rain could affect Delaware roads Sunday morning. According to the Delaware Department of Transportation, New Castle County faces a 30 percent to 40 percent chance of freezing rain between 4 a.m. and 8 a.m. Kent County faces a 30 percent chance of freezing rain between 12 a.m. and early morning. And Sussex County faces […]
Read More
Written on: January 3rd, 2014 in Alert Messages, Elkton Road, Ellendale, Georgetown, I-95, I-95 Delaware Toll Plaza, I95/SR1 Interchange, Indian River Inlet Bridge, Kent, Milford, Millsboro, New Castle, Railroad Crossings, Route 1, Route 26, Route 40, Route 54, Safety, Sussex, US113, US301, Weather Related Notices
As darkness and dropping temperatures slowed progress, the Delaware Department of Transportation scaled back road-clearing crews in New Castle County shortly after sunset. DelDOT will reduce road-clearing crews in Kent County at 8 p.m. and will reduce road-clearing crews in Sussex County at 9 p.m. Partial crews will remain on duty throughout the night to monitor […]
Read More
Written on: January 3rd, 2014 in Alert Messages, Elkton Road, Ellendale, Georgetown, I-95, I-95 Delaware Toll Plaza, I95/SR1 Interchange, Indian River Inlet Bridge, Kent, Milford, Millsboro, New Castle, Railroad Crossings, Route 1, Route 26, Route 40, Route 54, Safety, Sussex, US113, Weather Related Notices
Across Delaware, DelDOT crews continue to battle drifting snow and frigid temperatures. The major challenges now are winds that blow the snow back into the roadways and low temperatures that cause the road salt to be less effective. Primary and secondary roads statewide are covered in a thin layer of packed snow and ice. Despite […]
Read More
Written on: January 3rd, 2014 in Alert Messages, Elkton Road, Ellendale, Georgetown, I-95, I-95 Delaware Toll Plaza, I95/SR1 Interchange, Indian River Inlet Bridge, Kent, Milford, Millsboro, New Castle, Railroad Crossings, Route 1, Route 26, Route 40, Route 54, Safety, Sussex, US113, US301, Weather Related Notices
As of 4:30 a.m., the National Weather Service reports that steady precipitation is ending. No new accumulation is expected, although snow flurries could linger for a couple of hours. Temperatures might drop as low as 0 as the day progresses. Temperatures well below freezing and high winds will likely contribute to hazardous driving conditions. Snowfall […]
Read More
Written on: January 3rd, 2014 in Alert Messages, Elkton Road, Ellendale, Georgetown, I-95, I-95 Delaware Toll Plaza, I95/SR1 Interchange, Indian River Inlet Bridge, Kent, Milford, Millsboro, New Castle, Railroad Crossings, Route 1, Route 26, Route 40, Route 54, Safety, Sussex, US113, US301, Weather Related Notices
As of 4:07 a.m., the Delaware Department of Transportation reports that all of its snow-removal crews are active, plowing and salting roads while precipitation continues to fall on New Castle, Kent and Sussex counties. Four to six inches of snow lie upon roads in New Castle . Four to seven inches of snow lie upon […]
Read More
Written on: January 3rd, 2014 in Alert Messages, Elkton Road, Ellendale, Georgetown, I-95, I-95 Delaware Toll Plaza, I95/SR1 Interchange, Indian River Inlet Bridge, Kent, Milford, Millsboro, New Castle, Railroad Crossings, Route 1, Route 26, Route 40, Route 54, Safety, Sussex, US113, US301, Weather Related Notices
As of 12:20 a.m., Delaware roads are covered with snow as deep as four inches in parts of New Castle and as little as half an inch in parts of Sussex. All DelDOT snow-removal crews are busy, plowing snow and spreading salt on primary roads, secondary roads, bridges and bus routes.
Read More
Written on: November 28th, 2012 in Elkton Road
The Elkton Road Project, from Gravenor Lane to Delaware Avenue in the City of Newark, is getting close to being completed. There is approximately two to three weeks more of milling remaining as well as the placement of the top surface of hot mix. After all of the hot mix is placed, the final striping will […]
Read More
Written on: August 21st, 2012 in Elkton Road
Effective Monday, August 20, the "No Right Turn on Red" from Casho Mill Road onto Elkton Road restriction has been removed.  Drivers will now be permitted to turn right on red following a complete stop and ensuring the road is clear.
Read More
Written on: April 30th, 2012 in Elkton Road
Greggo & Ferrara will continue to grade for curb and sidewalk followed by placement of curb and sidewalk from Lincoln Dr to Veterans Dr with flagger controlled intermittent lane closures. Drainage pipe installation will continue on Apple Rd followed by Verizon underground duct relocation; this work is behind the PCC barrier placed for the southbound Apple Rd closure. Intersection reconstruction […]
Read More
Written on: April 17th, 2012 in Elkton Road
Road excavation and GABC stone base placement will occur between Lincoln Dr and Veterans Dr with flagger controlled intermittent lane closures, as needed. Drainage pipe installation will continue between Veterans Dr and Apple Rd with intermittent lane closures. Fine grading of GABC stone base will occur between Casho Mill Rd and Lincoln Dr, no lane […]
Read More