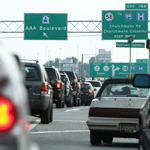 Facebook Twitter Flickr YouTube RSS Feed
Archived Posts From: 2014
Written on: January 22nd, 2014 in Alert Messages, Safety, Weather Related Notices
Due to ice and drifting snow, the Delaware Department of Transportation advises motorists to stay off of Delaware roads. But, if anyone must venture out into dangerous conditions, he or she should know what to do if his or her vehicle becomes hopelessly stuck. The AAA offers this advice:
Turn on your hazard lights.
Call 911.
Stay with your vehicle. It provides temporary shelter and makes it easier for rescuers to locate you. Don't try to walk in a severe storm. It's easy to lose sight of your vehicle in blowing snow and become lost.
Don't over exert yourself if you try to push or dig your vehicle out of the snow.
Tie a brightly colored cloth to the antenna, or place a cloth at the top of a rolled up window to signal distress.
At night, keep the dome light on if possible. It only uses a small amount of electricity and will make it easier for rescuers to find you.
Make sure the exhaust pipe isn't clogged with snow, ice or mud. A blocked exhaust could cause deadly carbon monoxide gas to leak into the passenger compartment with the engine running.
Use whatever is available to insulate your body from the cold. This could include floor mats, newspapers or paper maps.
If possible, run the engine and heater just long enough to remove the chill and to conserve gasoline.
Written on: January 22nd, 2014 in Alert Messages, Safety, Weather Related Notices
Dover – Delaware Department of Transportation crews were on the job overnight and this morning, plowing and salting roads to make them safe. Their efforts are being hindered, however, by temperatures in the single digits and strong winds.   Temperature below 10 degrees make salt less effective at melting ice and snow. High winds cause snow to drift back over areas already plowed.
As a result, a Level 1 driving emergency remains in effect today.  Motorists should stay off the roads unless their travel is absolutely necessary.   Roads will be icy in spots and secondary, and suburban streets will be snow covered in locations. Bridges, ramps and other elevated surfaces may be slippery.
As the day progresses and daylight returns, DelDOT will be in a better position to assess the road network and advise state officials on appropriate driving precautions.
Written on: January 22nd, 2014 in Alert Messages, Safety, Weather Related Notices
DelDOT takes every reasonable precaution to minimize or prevent any damage to public or private property during any of its operations. However, if your property was damaged, please call 1-(800) 652-5600.
Written on: January 22nd, 2014 in Alert Messages, Safety, Weather Related Notices
As they perform their snow removal duties, DelDOT's crews must necessarily stop for bathroom, meal and occasional rest breaks.  During snow events, DelDOT crews frequently work long shifts into the late night or early morning hours.  Driving large, heavy vehicles under adverse road conditions requires intense concentration and can be physically and mentally exhausting.  If drivers stop their vehicles on the roadside or are parked at a local business, be assured the break they are taking is richly deserved.
Written on: January 22nd, 2014 in Alert Messages, Safety, Weather Related Notices
Who should you call if you are snowed-in but must travel? The answer depends upon the severity of your need to travel.
Call 911 if there if there is a life-threatening situation.
However, if you have a non-life-threatening emergency and you need to travel by automobile, you may request assistance by calling your county's Emergency Operations Center.  This assistance is only available in extreme weather conditions.
Sussex County Emergency Operations Center: (302) 855-7801
Kent County Emergency Operations Center: (302) 735-3474
New Castle County Emergency Operations Center: (302) 395-2700
Wilmington Emergency Operations Center: (302) 576-3914