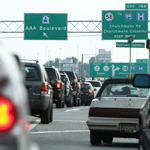 Facebook Twitter Flickr YouTube RSS Feed
DelDOT Crews Continue To Battle The Weather
Written on: January 22nd, 2014 in Alert Messages Safety Weather Related Notices
Dover – Delaware Department of Transportation crews were on the job overnight and this morning, plowing and salting roads to make them safe. Their efforts are being hindered, however, by temperatures in the single digits and strong winds.   Temperature below 10 degrees make salt less effective at melting ice and snow. High winds cause snow to drift back over areas already plowed.
As a result, a Level 1 driving emergency remains in effect today.  Motorists should stay off the roads unless their travel is absolutely necessary.   Roads will be icy in spots and secondary, and suburban streets will be snow covered in locations. Bridges, ramps and other elevated surfaces may be slippery.
As the day progresses and daylight returns, DelDOT will be in a better position to assess the road network and advise state officials on appropriate driving precautions.