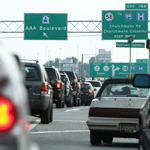 Facebook Twitter Flickr YouTube RSS Feed
Archived Posts From: 2014
Written on: January 21st, 2014 in Alert Messages, Safety, Weather Related Notices
Delaware Department of Transportation snow plows are assigned to plow specific roads, and they must travel quickly, but safely, from one assignment to another. With their plows down, trucks travel more slowly and might need to stop at each crossroad. Further, if a road has been recently salted, driving with the plow down might remove salt that has been applied to help melt snow and ice.
Written on: January 21st, 2014 in Alert Messages, Safety, Weather Related Notices
Snow removal operations must proceed as quickly and safely as possible in order to plow as many miles of road as possible in a limited amount of time.  The Delaware Department of Transportation is responsible for more than 12,000 lane- miles of roads, or 89 percent of the roads in Delaware. Drivers are trained to operate their equipment at safe speeds that will result in an effective snow removal effort over a large area.
If you believe that a vehicle is being driven in a reckless or unsafe manner, please contact DelDOT's Office of Public Relations at (302) 760-2080 with detailed information about the specific situation.
Written on: January 21st, 2014 in Alert Messages, Safety, Weather Related Notices
While the Delaware Department of Transportation is responsible for maintenance of 89 percent of roads in the state, DelDOT does not plow roads and streets that are maintained by towns or cities.  DelDOT also does not plow roads within privately owned subdivisions. DelDOT does plow some roads that are within city or town limits, but only those that are designated state maintained roads. Residents of incorporated towns or cities should first check with local government officials to learn if your street or road is municipally maintained.
For example, in the town of Greenwood, DelDOT plows Market Street, because that road is part of Del. 16, which is a major route for motorists heading east and west in Sussex County. In Dover, DelDOT plows North and South Dupont Highways for the same reason.
Written on: January 21st, 2014 in Alert Messages, Safety, Weather Related Notices
According to Delaware Emergency Management Agency, a winter storm warning is in place for the entire state of Delaware, with predicted snow totals of: 10 — 14 inches in New Castle County above the Chesapeake & Delaware Canal, 8 — 10 inches in New Castle County below the Canal and in Kent County, and 6 — 8 inches in Sussex County
Precipitation will be heaviest in the afternoon and early evening.  Precipitation will be all snow, and the snow will be a dry snow, resulting in drifting issues.  Snow may taper off before midnight, but blowing snow will remain an issue. Snow will be out of the area by daybreak.
Gusts of wind could reach 35 mph.
Temperatures will be very cold, with a wind-chill advisory for the entire state.  Long-range temperatures will remain very cold throughout next week, averaging 10 — 15 degrees below normal.
Tags:
#snowDE
,
#stormDE
Written on: January 21st, 2014 in Alert Messages, Safety, Weather Related Notices
Technically, Delaware does not declare snow emergencies. However, the state has a three-level system of driving warnings and restrictions.
The levels are found in Title 20 of the Delaware Code, Subsection 3116(b)(12) and may be put in effect by the Governor during a State of Emergency for all or parts of Delaware based on conditions.
Below is a summary of the three levels:
Level 1: Driving Warning: Drivers are discouraged from operating a motor vehicle on the state's roadways, unless there is a significant safety, health or business reason to do so.
Level 2: Driving Restriction: Travel on the roads is restricted to emergency workers, public utilities, healthcare providers including hospital staff, public and private operators of snow removal equipment, private sector food and fuel deliveries, and those industries, companies or organizations that have been provided a waiver, including businesses with pressing continuity and operational issues.
Level 3: Driving Ban: Complete ban on driving except for first responders, utility personnel, and public or private snow removal. Businesses and organizations should adjust work schedules so that employees do not need to be on the roads during a Level 3 Driving Ban.
Tags:
#stormDE