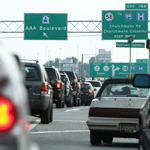 Facebook Twitter Flickr YouTube RSS Feed
Call EOC If You Are Snowed-In But Must Travel
Written on: January 22nd, 2014 in Alert Messages Safety Weather Related Notices
Who should you call if you are snowed-in but must travel? The answer depends upon the severity of your need to travel.
Call 911 if there if there is a life-threatening situation.
However, if you have a non-life-threatening emergency and you need to travel by automobile, you may request assistance by calling your county's Emergency Operations Center.  This assistance is only available in extreme weather conditions.
Sussex County Emergency Operations Center: (302) 855-7801
Kent County Emergency Operations Center: (302) 735-3474
New Castle County Emergency Operations Center: (302) 395-2700
Wilmington Emergency Operations Center: (302) 576-3914