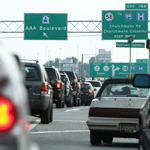 Facebook Twitter Flickr YouTube RSS Feed
Archived Posts From: 2012
Written on: November 14th, 2012 in Archaeology Updates, US301
Excavation of the cellar hole at the Elkins B site by Hunter Research, Inc. continues to produce a wealth of artifacts and information as we proceed towards the floor.  Items of interest thus far this week are a small lead bird shot, a host of faunal remains (including fish scales), a thimble and a half penny also known as a half pence.  The image on the obverse (or front) side of the copper coin is well worn and the reverse or back side is completely worn.  From what we can see, we have been able to determine the image on the front side of the coin faces right is that of King William III.  The back would have depicted the seated Britania facing left.  Because King William III is not accompanied by Queen Mary (who died of small pox in 1694) the coin must date to between 1695 and 1701.  No halfpennies were produced in England under Queen Anne from 1701 to 1714, thus earlier coins remained in circulation longer than normal and tend to be well-worn.  Given the amount of wear we estimate it was in circulation for around 30 years.  The presence of coins at all dating to the late 17th and first half of the 18th centuries along the Route 301 corridor are rare as bartering for goods and services was more the norm in this rural area.   

                                                                                Halfpenny-William-III
Written on: November 14th, 2012 in Archaeology Updates, US301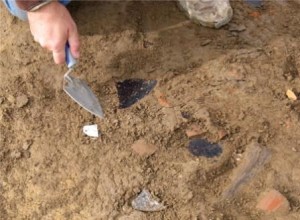 The crew from the Louis Berger Group is back in the field in Delaware, this time at the Noxon Tenant Site. The Noxon Tenancy is a small farm site dating to around 1750, in a field not far from Armstrong Corners. Since this spot was part of a huge property belonging to a wealthy speculator, the people who lived at the site must have been tenants.
https://deldot.gov/environmental/archaeology/us301/pdf/handouts/Handout_draft.pdf
We started our work on Monday. After digging a few more test units, we brought in a backhoe to remove the rest of the topsoil from the site. We were chased off the site by the Nor'easter on Wednesday afternoon and didn't get back to work until Friday. After a day and a half, we had exposed about half the site.  Removing the plowed soil exposed dozens of features on the site. These included what looks like a well, two small cellar holes, and several pits.  One of the features is what archaeologists call a "sheet midden", a wide, thin deposit of trash. These form when people just throw their trash out into a yard or down a slope, rather than burning it or burying it in pits. This one is full of pottery and animal bone, just the stuff for learning about the lives of the people who lived here 250 years ago.  We'll have the backhoe on the site again on Monday, finishing up this work and exposing more exciting things.

Pit Feature, Dark from all the Charcoal in the Soil