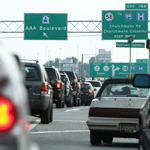 Facebook Twitter Flickr YouTube RSS Feed
Archived Posts From: 2012
Written on: November 9th, 2012 in Archaeology Updates, US301
Well, November started out on a good note for Hunter Research, Inc.  The Elkins B site survived Hurricane Sandy and with each and every shovel full of soil from our cellar hole we are finding new and interesting artifacts which help us to better understand the folks who lived on this property in the first half of the 18th century.  Screening the cellar fill through 1/8 inch mesh has been difficult due to the sticky nature of the clayey silty soils which make up the majority of the fill.  In an effort not crush the tiniest of artifacts lying within the soil we made sure NOT to be aggressive pushing the soil through the mesh, saving what would not go through the screens easily for soil floatation.  Floatation involves the immersing of the soil samples in a large 55 gallon drum, at which point the heavy fraction (the heavier particles) sink to the bottom and are collected on window screen while the light fraction floats to the top of the water and is collected in a runoff bag.  The amount of material collected  was staggering, filling trays with thousands of tiny items, which the laboratory staff must now pick through on rain days.  Well while waiting for the site to dry out a bit on Wednesday we had our first opportunity to process some of the float samples and pick through a small portion of the heavy fraction.  To our surprise we are finding tiny seed beads made from glass and what appears to be ceramic.  The sample also contained more straight pins, egg shell, fish scales, bones,  bits of tin enameling, daub (burnt earth used between logs of the structure), and what appears to be burnt seeds!   
Feature
Written on: November 9th, 2012 in Route 26
DelDOT, Delmarva Power, and Verizon met this past Monday to discuss the impact of Hurricane Sandy on the start date of early action utility relocations on SR 26, coordination of relocation work with other ongoing projects, inspection issues and other outstanding issues affecting the bulk of the Mainline relocations.
Click here to read the minutes from this past Monday's meeting.