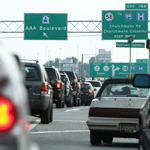 Facebook Twitter Flickr YouTube RSS Feed
Archived Posts From: 2012
Written on: November 2nd, 2012 in Route 26
DelDOT is currently determining the work hours for the SR 26 Mainline Project, and would like to incorporate night time work hours into the contract, in addition to daytime hours. In doing so, DelDOT is required to seek property owners' input as to their desire to have the contractor work during night time hours or not. Night work surveys have been mailed to those property owners whose land abuts SR 26.
DelDOT asks that those who receive the survey in the mail respond by November 15, so that DelDOT receives a clear indication if night work is acceptable to residents and businesses that abut SR 26. Please note that if DelDOT does not receive a night work survey response by November 15, 2012 it will be taken as a YES response for night work to occur. " The final decision to include night work or not in the SR26 Mainline Project will be based on the majority of the responses received by the Department.
Please advise those you may know who live along SR 26 that it is very important that they respond to the survey. This is a chance for their voice to be heard on this important aspect of the project.