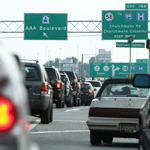 Facebook Twitter Flickr YouTube RSS Feed
SR26 Night Work Survey Results
Written on: November 19th, 2012 in Route 26
On October 11, 2012, DelDOT sent 194 surveys via certified mail to the property owners within the SR26 Mainline project limits. The survey is required by law in Delaware when DelDOT is considering doing road work during night time hours. According to the law, however the majority vote determines whether or not night work will be permitted. Also according to the law, each survey that is sent that DelDOT does not receive a response for is considered a vote supporting night work.
The deadline for responding to the survey was November 15, 2012 and the results of the survey have been tallied. Of the 194 surveys sent, DelDOT received 77 responses – 68 supporting night work and 9 not supporting night work. 117 surveys were not returned.
Based on the survey results, DelDOT will incorporate night work into it's plans for SR26. DelDOT is thankful to those who participated in the survey.