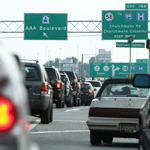 Facebook Twitter Flickr YouTube RSS Feed
SR 26 Detour Routes – Update
Written on: November 7th, 2012 in Route 26
The following is an update (as of November 7, 2012) on the detour routes for the SR 26 construction project:
Current road closures/restrictions for the SR 26 Detour Project: Burbage Road is closed from Substation Road to Windmill Road; intermittent lane closures on Beaver Dam Road; Burbage Road is expected to open on November 9, 2012; and Windmill Road at Atlantic Avenue will close on November 12 and remain closed until January 7. Motorists should follow posted detour routes.
Current Work Schedule & Progress: This project was initially delayed due to a lack of utility coordination, and fortunately we have worked through those issues. Currently, we are constructing the drainage on other phases of the contract at the same time we are constructing the pipe crossings and road reconstruction on Burbage Road (Phase 1). We are not able to work on any phases that are within the signed detour route for Burbage Road, so it limits where we can work. While it may appear that we are not making progress on the construction of the drainage, as much of the work is underground or adjacent to the roadway, we have actually accomplished a significant amount of work in the last few months. There will be more visible progress when we begin the actual road widening work.
Tentative schedule for the project over the coming months: Presently working on Phase 1 of the contract (Burbage Road); this will be complete November 9th and we will begin Phase 2 (Windmill Road). Concurrently, we are constructing the roadside ditches and other drainage along the other phases of the contract. We are adjusting the schedule as much as we can to expedite the work, however our anticipated completion date is July 2013.
What we are doing to lessen inconvenience to residents/motorists and business impact: Where possible we are using lane closures to perform much of the work that maintains through traffic on all roads. The original plan was to close the road, but we are attempting to work under lane closures in order to lessen the impact to the general public.
Work occurring to expedite the completion of the project: We are working multiple phases concurrently and have revised the scope of work from a conventional road reconstruction to a road recycling method that is performed much faster.