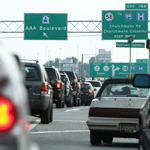 Facebook Twitter Flickr YouTube RSS Feed
Archived Posts From: 2014
Written on: February 4th, 2014 in Alert Messages, Safety, Weather Related Notices
Dover – Snow and ice are expected to arrive again tonight, and DelDOT crews in New Caste and Kent Counties are prepared to work through the night to make the roads as safe as possible for the morning rush hour.
In Sussex County, crews will not report for work this evening, but supervisors will remain in close contact with DelDOT's Transportation Management Center, and will be ready to deploy if conditions warrant it.
Crews will begin applying salt as soon as air temperatures approach the freezing point, or when snow or sleet begins to fall.