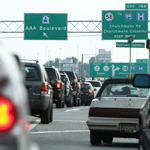 Facebook Twitter Flickr YouTube RSS Feed
Archived Posts From: 2014
Written on: February 3rd, 2014 in Alert Messages, Safety, Weather Related Notices
While Delaware did not receive as much snow as was forecast, with the steady precipitation and the prospect of freezing temperatures tonight will keep DelDOT crews in Kent and New Castle counties remain on the job tonight, plowing and spreading salt.
Because temperatures are expected to drop to as low as 20 degrees tonight, there is a significant risk of the rain that fell today freezing on the roads and bridges.
In New Castle County, crews are plowing and spreading salt in the secondary and minor roads at this hour.
In Kent County, trucks and crews are prepositioned throughout the county, ready to start applying salt as soon as it stops raining or the temperatures drop below freezing.