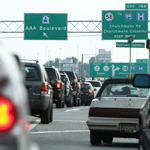 Facebook Twitter Flickr YouTube RSS Feed
Archived Posts From: 2014
Written on: February 2nd, 2014 in Alert Messages, Safety, Weather Related Notices
Dover — Crews from the Delaware Department of Transportation will be working well before dawn tomorrow, in response to the possible 4-6″ of snow that Delaware might receive in the morning.

While these plans may be adjusted if the forecast changes, or if we receive more or less snow than anticipated, below are the county-by-county plans for tomorrow morning: 

In New Castle County, all crews will be working by 4 a.m., with some crew members reporting at 3 a.m. 

In Kent County, 1/4 crews will report at 4 a.m.

In Sussex County, supervisors will report by 5:00 a.m. 

All day today, and through the night, officials at DelDOT's Transportation Management Center will be monitoring forecasts, and current conditions.   

The National Weather Service National Weather Service reports that the event will likely begin as rain early Monday morning, possible sleet before transitioning to snow. Snow is expected to begin in New Castle County between 6:00 a.m. to 7:00 a.m.,  ending around 2:00 p.m.  Accumulation forecasts predict 4 to 6 inches of snow in New Castle County, Kent County may receive 1 to 2 inches, with the possibility of 4 inches northern Kent County. Sussex County is predicted to receive less than an inch of snow. Temperature in New Castle County at about 6:00 a.m. are expected to be between 34 degrees and 32 degrees may occur around 6:00 AM.