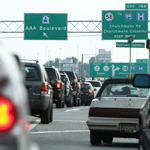 Facebook Twitter Flickr YouTube RSS Feed
Archived Posts From: 2013
Written on: August 22nd, 2013 in Railroad Crossings, Route 40
Here is your final update on the Route 40 Railroad Crossing Replacement Project.
 Final concrete work has been completed for median island.  Concrete work now complete.
The remaining pavement in the median removed and final grading completed.  Restoration of median is now complete. 
Final surface paving completed in the east bound direction and one lane west bound.  
Tomorrow (Friday, August 23), paving will be completed and roadway striping will follow.  Clean up nearing completion.
 Thanks to everyone for their patience during this project.