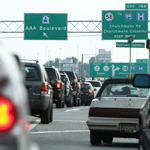 Facebook Twitter Flickr YouTube RSS Feed
Archived Posts From: 2013
Written on: August 14th, 2013 in Railroad Crossings, Route 40
On August 13, 2013, New Castle County received a heavy storm which flooded the Route 40 area.  The tracks were completely flooded across the entire roadway.  However, the newly installed drainage system worked very well, which allowed the contractor to get the water level down considerably.  They diverted it through the new system. 
A concerted effort was made by all, and because of this the railroad itself was prepared for the day's work.  The railroad company removed all the tracks across Route 40, excavated all the saturated material, placed stone, compacted and then paved under the tracks.  Next, they placed and rolled ballast stone and started to set track panels all by 5pm on Tuesday, August 13.
Due to the storm, the tracks on the Shellpot Line were washed out in one area.  Therefore, railroad traffic in Delaware was shut down most of the day on Tuesday, August 13.   The railroad company was definitely under pressure to get this track open.  Trains (including ones using the Route 40 tracks) resumed operation in the evening hours of August 13.
As for site conditions, material that had been placed in the road box in the railroad's right-of-way will need to dry out, but that should not delay any major work activities.  
After the storm passed, it was beautiful day, which gave the contractor the opportunity to move forward with the following work:
placed the remaining concrete sidewalk
finished the median crossover
completed curb work for the most part, with only the tie-in areas at the track remaining to be done (which cannot be completed until the railroad work is totally finished)
The rain did put the contractor slightly behind schedule, but the railroad company has been outstanding and their work has saved time in the overall contract.  If work progresses well today (August 14), the contractor should be back on schedule by the end of the day.     Work today, August 14, includes setting the casing pipe under the rail and completely tying in the new drainage system.