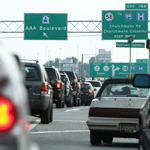 Facebook Twitter Flickr YouTube RSS Feed
Archived Posts From: 2013
Written on: August 12th, 2013 in Railroad Crossings, Route 40
On Saturday (night), August 10, 2013, Mumford & Miller continued working, between train traffic, to complete the following:
-Almost all pipe and drainage inlets have been installed
-Completed 159 feet of piping
-Excavation of roadway box on east side of US 40.
-Utilized two excavators, backhoe, dozer, frontend loader, two dump trucks and a trench compactor to complete the work
On Sunday (day), August 11, 2013, Mumford and Miller continued to excavate the roadway box, placing material in the roadway box, and did some overall site cleanup.
Work is progressing on schedule.