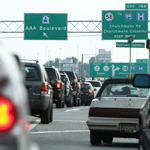 Facebook Twitter Flickr YouTube RSS Feed
Archived Posts From: 2013
Written on: August 15th, 2013 in Railroad Crossings, Route 40
On Wednesday, August 14, 2013 during the day, the contractor completed the final drainage pipe run under the railroad tracks.  All drainage across Route 40 is now fully operational.  To complete the work they utilized two superintendents, two operators, two skilled laborers, and three unskilled laborers along with excavators, a backhoe, a frontend loader, and a trench compactor.
Also on Wednesday, August 14, the remaining concrete sidewalk was installed, as well as the curb opening on the westbound lanes on each side of the track.    Hotmix asphalt patching was placed between the existing roadway and newly installed curb.     Work remaining consists of placing the ADA compliant rail crossing section and the island on eastbound lane east side (this was removed to facilitate U-turns for the travelling public).
Last night (Wednesday, August 14), the contractor graded the roadway adjacent to the tracks and placed asphalt on the eastbound and westbound lanes west of the tracks.
Today, Thursday, August 15, Norfolk Southern will set grades on the rail replacement and compact under tracks.  The contractor will install the pipe extension at the drainage outlet and will grade and place hotmix on the east and west bound lanes east of the track.
Construction is progressing very well.