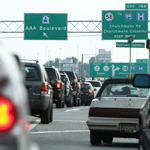 Facebook Twitter Flickr YouTube RSS Feed
August 19, 2013 – Route 40 Railroad Crossing Update
Written on: August 19th, 2013 in Railroad Crossings Route 40
The Route 40 railroad crossing reopened as of Saturday, August 17th at approximately 8pm. 
While the roadway and crossing have reopened to traffic, there will be limited lane closures in the area to complete the final paving. The lane closures will take place this week (August 19-23) from 7:30pm until 5am. Track work, drainage and sidewalks are complete.  This week, during evening hours, the contractor will finish paving and grading/seeding of the medians.
 DelDOT wishes to thank everyone for their patience during this project.