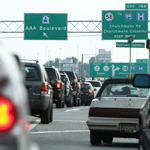 Facebook Twitter Flickr YouTube RSS Feed
August 8, 2013 – Route 40 Railroad Crossing Update
Written on: August 8th, 2013 in Railroad Crossings Route 40
Despite the somewhat rainy weather this week (August 5-9, 2013), work on the Route 40 Railroad Crossing Replacement Project did begin. The contractor, Mumford and Miller, who will be doing the drainage and paving work, began testing/locating of utilities, clearing the area, placing riprap at drainage outlets and were able to complete the first 16 feet of drainage pipe on August 5 and 6.
On August 7, contractor installed 172 feet of 24" concrete drainage pipe, and the first of eight drainage inlets.
All this week's work is being done off of the roadway during nighttime hours, and therefore traffic on Route 40 is not impacted this week. Additional detour signs were also posted this week.
Beginning Friday, August 9 at 7:30 p.m., the full closure of the Route 40 railroad crossing will go into effect. It will remain closed around the clock for two weeks, unless work is completed sooner. It is scheduled to reopen August 26 at 5 a.m. This will allow the contractor and Norfolk Southern to work to replace the tracks and continue drainage and paving work.
Look for daily updates on this closure beginning Monday, August 12, 2013.