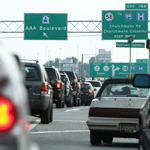 Facebook Twitter Flickr YouTube RSS Feed
Archived Posts From: 2012
Written on: August 20th, 2012 in Archaeology Updates, US301
Last week Hunter Research, Inc. started data recovery excavations at the Cardon-Holton Site (7NC-F-128, N14508), another early historic farmstead along the U.S. Route 301 alignment.  (Below is a link to a handout about the site.) 
https://deldot.gov/archaeology/us301/pdf/handouts/CardonOnePageHandout.pdf
Historic research into this property indicated that from 1685 to 1722 this area was part of an extensive  plantation called "Riley's Industry", after which the property was owned by William Cardon from 1722 to 1760.  The site lies near the perimeter of the Black Marsh and close to the path of an unnamed branch of Augustine Herrman's cart road, which was laid out around 1660.  This road was used for both legal and illicit trade between the Chesapeake and Delaware Bays.  The Cardon-Holton site now lies hidden beneath a lush crop of soybeans.  Prior to excavations, the crop had to be removed from the identified core of the site as well as from areas for stockpiling soils, for an access road into the site, and a parking area. Once the crop was removed, the center-line of U.S. 301 was shot in by surveyors from Century Engineering and the locations of excavation units from earlier phases of work were re-established. 
Initially six, six-foot square excavation units were targeted to recover artifacts from the plow-zone in areas where concentrations were observed on the surface and subsurface during the earlier excavations.  Numerous important artifacts dating to the late 17th and early 18thcenturies recovered from these first excavation units led us to increase the number to 16.  At the same time the backhoe was busy stripping off the plow-zone from the northern portion of the site.  Equipped with a sharp, flat steel collar, the machine leaves a crisp clean surface which is then refined with a flat-bladed shovel and trowels to reveal disturbances to the underlying subsoil, both cultural (such as pits and post holes) and non-cultural (such as trees and animal burrows).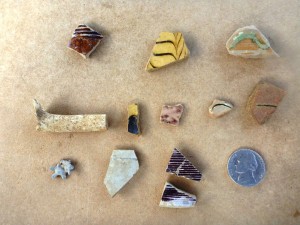 Early colonial artifacts of note recovered from the excavation units included fragments of bulbous German Westerwald stoneware jugs with rilled necks colored with purple manganese pigment (bottom row, right), Midlands mottled from central England (top row left), dot and combed buff-bodied earthenware attributed to Staffordshire, England (top and middle row, center), small bits of sgraffito (scratched decoration) red-bodied earthenware plates similar to vessels identified as originating from the town of Bideford in North Devon, England (middle row, right) and dipper white salt glazed stoneware also from England.
Written on: August 16th, 2012 in Archaeology Updates, US301
300 and counting. That's the current number of features recorded at the Houston-LeCompt site. Some features are small, like post holes and post molds showing us fence lines and shallow refuse pits where remains were thrown away out of sight. Other features, though, are quite large and vastly informative. To date, we have found a root cellar, at least six outbuildings, a possible privy, a potential cistern, and a probable well. These deeper features contain an incredible amount of information in the form of architectural debris and everyday personal items that shed light on the tenants who once lived here. Watch as Dovetail archaeologist Michael Ecks describes our excavation of the Houston-LeCompt well.
Written on: August 15th, 2012 in Archaeology Updates, US301
Giddy-yup! Food consumption and horse riding were the themes this week at the Rumsey/Polk Tenant/ site, and we found food remains and "horsey" items galore.  Several large trash pits dating from the eighteenth and nineteenth centuries were excavated this week.  A few pits that would have been used to store food, ie. "subfloor cold storage pits" in particular contained lots of evidence of the types of animals raised, ridden, and eaten on the farm.  Objects such as a stirrup and a horseshoe  revealed the former residents rode horses, an expensive commodity at the time, and one that required riding skills and equipment, horse stalls, and paddock enclosures.  Riding horses also needed to be continuously shoed by local blacksmiths, which created an added expense to horse ownership. These finds will be researched and may be dated to give us more clues about when horses were used at the site. Careful excavation by crew members also recovered tiny egg shell fragments–likely from chicken eggs– delicate fish bones, and teeth, leg, foot and shoulder bones from pigs and cows. The fish may have been caught in the nearby creek or were bought at the local market.  Domesticated chickens, pigs, and cows were likely raised by the tenants on the farm.  Extra meat produced during seasonal livestock slaughter was probably bartered for other goods with neighbors or local shop keepers, a common practice during the eighteenth and nineteenth century that strengthened social and economic ties between community members. 
Written on: August 7th, 2012 in Archaeology Updates, US301
This week at the Rumsey-Polk site, archaeologists finished  measuring, mapping, describing, drawing and photographing the site's 530-plus "features" including a possible house, wells, several pits, and over 400 post holes showing house and fence lines. Excavation began on some of the pits with artifacts on the surface and the possible house. Initial excavation has revealed that some of the features are very shallow. Over 200 years of farming and plowing has removed and mixed up the upper portions of some of the pits, making the survival of the shallow stains denoting the locations of the former structures that much more remarkable. Sampling these features, even if shallow, can provide a lot of information. Each feature may be dated to a specific period when it was used and filled in. The information from features should allow us to reconstruct changes to the Rumsey-Polk site over time and let us know more about the various tenant residents. Artifacts and animal remains from the features give us clues about what they were doing, what kinds of activities they were involved in, what they were buying – whether locally made or imported, the changing farming techniques or farming materials in use, and what kinds of animal or plant foods they were eating. Volunteers like Jim and Mary Atkins of the Archaeological Society of Delaware are providing critical assistance to our crew.
Written on: August 6th, 2012 in Archaeology Updates, US301
Boy, we are having fun now! This week's activities at the Houston-LeCompt site comprised of creating a full site plan map and beginning feature excavation. The location of each of our 250+ features was captured, through the use of a total station (a digital transit), and the data was then used to draft a field map. Later, this same raw data will be used to generate a CAD-based plan of the entire site. What was just a random group of circles, squares and postholes magically transformed on paper to reveal building footprints, refuse disposal areas, and fence lines. Amazing! Different occupations are beginning to appear through the physical remains, including several dwellings, outbuildings, and three large circular features in different areas of the site that may be a well, cistern, and privy. Auger tests prove that each of these three features are indeed quite deep and contain an abundance of artifacts and architectural debris, but more excavation will help decipher their use. This is where the good stuff lives!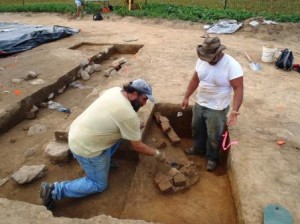 As we continue to excavate the site, we are fortunate that our close proximity to Boyd's Corner Road renders this site extremely accessible.  We had a DelDOT-sponsored media day on Wednesday, August 1st, attended by several newspaper, radio and television reporters. In addition to reporters, we have had many volunteers and visitors, ranging from those who just want to tour the site to others who want to get down and dirty! The young and the young at heart have come out to help us trowel and screen, and each has had a good time finding treasures. We encourage others living in the Middletown area to send us an email to arrange for a visit (mecks@dovetailcrg.com). We are working for another five weeks, and we would love to have you!