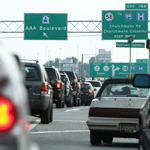 Facebook Twitter Flickr YouTube RSS Feed
US Route 301 Archaeology Update
Written on: August 20th, 2012 in Archaeology Updates US301
Last week Hunter Research, Inc. started data recovery excavations at the Cardon-Holton Site (7NC-F-128, N14508), another early historic farmstead along the U.S. Route 301 alignment.  (Below is a link to a handout about the site.) 
https://deldot.gov/archaeology/us301/pdf/handouts/CardonOnePageHandout.pdf
Historic research into this property indicated that from 1685 to 1722 this area was part of an extensive  plantation called "Riley's Industry", after which the property was owned by William Cardon from 1722 to 1760.  The site lies near the perimeter of the Black Marsh and close to the path of an unnamed branch of Augustine Herrman's cart road, which was laid out around 1660.  This road was used for both legal and illicit trade between the Chesapeake and Delaware Bays.  The Cardon-Holton site now lies hidden beneath a lush crop of soybeans.  Prior to excavations, the crop had to be removed from the identified core of the site as well as from areas for stockpiling soils, for an access road into the site, and a parking area. Once the crop was removed, the center-line of U.S. 301 was shot in by surveyors from Century Engineering and the locations of excavation units from earlier phases of work were re-established. 
Initially six, six-foot square excavation units were targeted to recover artifacts from the plow-zone in areas where concentrations were observed on the surface and subsurface during the earlier excavations.  Numerous important artifacts dating to the late 17th and early 18thcenturies recovered from these first excavation units led us to increase the number to 16.  At the same time the backhoe was busy stripping off the plow-zone from the northern portion of the site.  Equipped with a sharp, flat steel collar, the machine leaves a crisp clean surface which is then refined with a flat-bladed shovel and trowels to reveal disturbances to the underlying subsoil, both cultural (such as pits and post holes) and non-cultural (such as trees and animal burrows).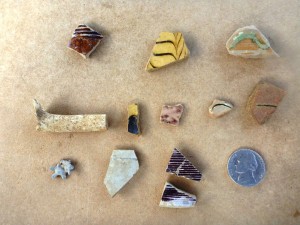 Early colonial artifacts of note recovered from the excavation units included fragments of bulbous German Westerwald stoneware jugs with rilled necks colored with purple manganese pigment (bottom row, right), Midlands mottled from central England (top row left), dot and combed buff-bodied earthenware attributed to Staffordshire, England (top and middle row, center), small bits of sgraffito (scratched decoration) red-bodied earthenware plates similar to vessels identified as originating from the town of Bideford in North Devon, England (middle row, right) and dipper white salt glazed stoneware also from England.