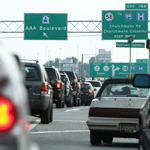 Facebook Twitter Flickr YouTube RSS Feed
Archived Posts From: 2012
Written on: August 28th, 2012 in Archaeology Updates, US301
One of the largest and most complex features identified at the Houston-LeCompt site is a cellar, which appeared under the plowzone as a dark, rectangular soil stain with an abundance of stone and brick. Watch as Dovetail archaeologist Johnie Sanders talks about the ongoing excavation of this exciting feature.
Written on: August 28th, 2012 in Archaeology Updates, US301
The archaeological fieldwork at the Rumsey/Polk Tenant/Prehistoric site is nearing an end, and we sure do have a lot of data from the site.  Two overlapping historic occupations (one mid- to late 18th and one early to mid-19th century in date) have left a cascade of over 600 cultural features.  Nearly one hundred have been excavated in full or part.  Roughly 5/6th of the features are stains left by post holes and decayed posts.  Others are crawl spaces and sub-floor cold storage pits below former buildings, refuse or trash pits, possible privies, and one well. The majority of these larger features have been archaeologically sampled and produced a rich diversity of cultural material from both historic occupations.  Many of the post stains show us the locations of former fence lines that once criss-crossed the site, separating house yards from farm fields, barns, and animal pens, or living areas from work areas.   In addition to fence lines, several posts indicate the locations of earthfast buildings.  Such structures lacked masonry foundations, and were instead supported by hole-set posts, wooden sills, and wooden piers.  This building method was common in the Middle Atlantic Region during the 17th century.  By the early 18th century and into the early nineteenth-century, earthfast architecture was used in conjunction with masonry building techniques.  Studies in New Jersey and Delaware indicate that by the third-quarter of the 18th century, fewer homes were built using earthfast construction techniques, but the construction of earthfast out buildings, including barns, animal sheds, out kitchens, corn cribs, and hay barracks continued into the 19th century.  The absence of intact masonry foundations at the Rumsey/Polk Tenant/Prehistoric site suggests all of the buildings on site were of earthfast construction and/or, if buildings with stone or brick masonry foundations were constructed, masonry foundations did not extend below the topsoil and the usable stone or brick was removed for reuse elsewhere.  Observation of post patterns based on our field maps suggest several buildings were present on the site with floor plan dimensions ranging from 16'x18', 12'x24', 16.5'x19.5', and 9'x16.5'.  These buildings appear to have been oriented along a northwest/southeast axis to provide maximum solar exposure and likely represent a variety of building types, including dwellings, out kitchens, sheds, and barns.  The excavation of sub-floor pits that would have been below many of the buildings will aid in determining their age and use .
Archaeologists Jonathan Lewis, John Potts, Kevin Enlow, and Brian Manser excavating a large 19th-century cold cellar beneath a possible earthfast house
Written on: August 28th, 2012 in Archaeology Updates, US301
We're under way at the Bird-Houston Site. This corner of a flat, muddy field was somebody's home for 150 years, from around 1770 to 1920. The house here appears on no map and was never noticed by the tax collector. Even on surveys of the property the spot is just mapped as a wood lot. The residents were tenants, and their hidden little house in the woods must have been dear to their hearts.  Please see this link to learn more about the site:
https://deldot.gov/environmental/archaeology/us301/pdf/handouts/BirdHoustonSiteHandout.pdf
During the testing of the site last year we found that it is divided into two parts. One part dates to around 1770 to 1830, the other from 1830 to 1920. Likely the first house on the site was falling down, so the residents built a new one 50 yards away. We found interesting things in both parts. In the more modern part we found a well, filled in when the site was abandoned, and what we think are house foundations.  On the older part we found some pits, some post holes, and a weird pit, half filled in with clay from the swamp nearby, which nobody has been able to interpret. Maybe we'll figure it out when we dig the rest! Next week we'll bring out a backhoe and start stripping the topsoil from the site, we can't wait to see what we will find.