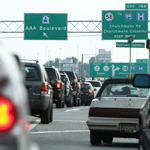 Facebook Twitter Flickr YouTube RSS Feed
Archived Posts From: 2014
Written on: March 4th, 2014 in Archaeology Updates, US301
This past weekend Dovetail assisted the Archaeological Society of Delaware (ASD) and the Delaware Department of Transportation with an artifact display at the Annual Gem Mineral and Fossil show in Newark, Delaware. The show was hosted by a wonderful group of people from the Delaware Mineralogical Society, Inc http://www.delminsociety.net/
Although the show's primary focus was on fossils and gems, archaeology did have its place. The ASD and the Archaeological Society of Maryland had tables with artifacts highlighting the prehistoric occupation of the Delaware and Maryland region, while a sample of historic artifacts recovered during the Route 301 excavations were in a display case in the main room. There was an overwhelming response from the attendees to see artifacts from Delaware, and many appreciated seeing and learning a little more about the history of their home state.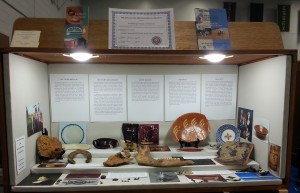 Written on: March 2nd, 2014 in Alert Messages, Safety, Weather Related Notices
Dover – The National Weather Service (NWS) has issued Winter Storm Warning in Delaware, effective 9 p.m. Sunday night through 4p.m. on Monday, for what is being characterized by NWS officials as the "most significant winter weather event of the season." The forecast predicts snow accumulations of more than six inches, with the greatest amounts of 10-14 inches expected in central Delaware. Precipitation is forecast to begin as rain tonight and convert to snow after midnight. Based on weather forecasts for tonight and tomorrow, it is likely the State of Delaware will issue a State of Emergency with a level 1 driving warning starting tonight.
DelDOT crews will be fully mobilized tonight and throughout the storm, with more than 450 pieces of equipment on the roads statewide.
DelDOT is urging residents to prepare for the storm by obtaining essential items, including medications, food and batteries, in advance of the expected precipitation.
Because the forecast is for snow to fall at a rate of as much as 1″ – 2″ per hour, it will be difficult for DelDOT plows to stay ahead of the accumulation on primary roads. For this reason, secondary and minor roads may not be attended to until the snowfall stops some time tomorrow.
With the storm likely to start as a rain event, it will not be effective to pretreat roads with brine today. Brine washes off roads when it rains.
Further updates on storm updates and preparations will be issued late in the day as weather updates are provided. Information updates are available at www.deldot.gov or www.dema.delaware.gov.
Direct links to weather stations and traffic cameras:
Weather Stations:
View real-time weather conditions from our 18 weather stations.
These automated stations measure everything from air temperature, to wind chill, to surface and subsurface temperatures.
https://deldot.gov/traffic/map.ejs?tab=Weather
Snowfall amounts:
DelDOT has 18 sensors that automatically measure snow. The snowfall totals are updated hourly during snow events.
Here is a link to the page, listing all of the sensors: https://deldot.gov/public.ejs?command=PublicSnowfallAccumulation
Traffic Cameras:
View real-time road conditions by viewing any of the more than 130 live traffic cameras from throughout Delaware.
New Castle County: https://deldot.gov/public.ejs?command=PublicCameraDisplay&county=1
Kent County: https://deldot.gov/public.ejs?command=PublicCameraDisplay&county=2
Written on: February 4th, 2014 in Alert Messages, Safety, Weather Related Notices
Dover – Snow and ice are expected to arrive again tonight, and DelDOT crews in New Caste and Kent Counties are prepared to work through the night to make the roads as safe as possible for the morning rush hour.
In Sussex County, crews will not report for work this evening, but supervisors will remain in close contact with DelDOT's Transportation Management Center, and will be ready to deploy if conditions warrant it.
Crews will begin applying salt as soon as air temperatures approach the freezing point, or when snow or sleet begins to fall.
Written on: February 3rd, 2014 in Alert Messages, Safety, Weather Related Notices
While Delaware did not receive as much snow as was forecast, with the steady precipitation and the prospect of freezing temperatures tonight will keep DelDOT crews in Kent and New Castle counties remain on the job tonight, plowing and spreading salt.
Because temperatures are expected to drop to as low as 20 degrees tonight, there is a significant risk of the rain that fell today freezing on the roads and bridges.
In New Castle County, crews are plowing and spreading salt in the secondary and minor roads at this hour.
In Kent County, trucks and crews are prepositioned throughout the county, ready to start applying salt as soon as it stops raining or the temperatures drop below freezing.
Written on: February 2nd, 2014 in Alert Messages, Safety, Weather Related Notices
Dover — Crews from the Delaware Department of Transportation will be working well before dawn tomorrow, in response to the possible 4-6″ of snow that Delaware might receive in the morning.

While these plans may be adjusted if the forecast changes, or if we receive more or less snow than anticipated, below are the county-by-county plans for tomorrow morning: 

In New Castle County, all crews will be working by 4 a.m., with some crew members reporting at 3 a.m. 

In Kent County, 1/4 crews will report at 4 a.m.

In Sussex County, supervisors will report by 5:00 a.m. 

All day today, and through the night, officials at DelDOT's Transportation Management Center will be monitoring forecasts, and current conditions.   

The National Weather Service National Weather Service reports that the event will likely begin as rain early Monday morning, possible sleet before transitioning to snow. Snow is expected to begin in New Castle County between 6:00 a.m. to 7:00 a.m.,  ending around 2:00 p.m.  Accumulation forecasts predict 4 to 6 inches of snow in New Castle County, Kent County may receive 1 to 2 inches, with the possibility of 4 inches northern Kent County. Sussex County is predicted to receive less than an inch of snow. Temperature in New Castle County at about 6:00 a.m. are expected to be between 34 degrees and 32 degrees may occur around 6:00 AM. 

Written on: January 27th, 2014 in Archaeology Updates, US301
Alternative Mitigation of the Polk Tenant Site (7NC-F-111)
We have collected data from more than 50 well features excavated in Delaware, and this month at Versar we're blogging about the beginnings of our data analysis. We have collected dozens of different attributes (such as depth and lining material), and our task now is to look for patterns among those attributes across time and place. At this stage, there are a couple of observations we can make about the materials used to line wells.
The earliest wells in our sample were all lined with wood until the second quarter of the 18th century. Most of these early wells were rectangular wood plank wells, though there is a wood plank well with a barrel at the bottom dating from probably the first quarter of the 18th century. Barrel-only wells appear in the sample by the third quarter of the 18th century, and seem to persist until the third quarter of the 19th century.  Masonry well linings appear later, and continue through the latest wells included in the study. The first brick well in the sample appears to date from the second quarter of the 18th century, while the first stone-lined wells date from the last quarter of the 18th century.
This makes some intuitive sense, and mirrors patterns in construction materials used for other structures. Brick makers and bricks might not have been widely available in the earliest years of European settlement, while wood would have been abundant. Barrels might also have been common, and an easy expedient for lining a shallow well, compared to the level of effort that would have been needed to line a well with brick or stone. All one needed to do was to remove the top and bottom of the barrel, and lower it into the hole dug for the well shaft. Since most wells excavated in Delaware are quite shallow, one could line a well with as few as three barrels.
Written on: January 22nd, 2014 in Alert Messages, Safety, Weather Related Notices
Due to ice and drifting snow, the Delaware Department of Transportation advises motorists to stay off of Delaware roads. But, if anyone must venture out into dangerous conditions, he or she should know what to do if his or her vehicle becomes hopelessly stuck. The AAA offers this advice:
Turn on your hazard lights.
Call 911.
Stay with your vehicle. It provides temporary shelter and makes it easier for rescuers to locate you. Don't try to walk in a severe storm. It's easy to lose sight of your vehicle in blowing snow and become lost.
Don't over exert yourself if you try to push or dig your vehicle out of the snow.
Tie a brightly colored cloth to the antenna, or place a cloth at the top of a rolled up window to signal distress.
At night, keep the dome light on if possible. It only uses a small amount of electricity and will make it easier for rescuers to find you.
Make sure the exhaust pipe isn't clogged with snow, ice or mud. A blocked exhaust could cause deadly carbon monoxide gas to leak into the passenger compartment with the engine running.
Use whatever is available to insulate your body from the cold. This could include floor mats, newspapers or paper maps.
If possible, run the engine and heater just long enough to remove the chill and to conserve gasoline.
Written on: January 22nd, 2014 in Alert Messages, Safety, Weather Related Notices
Dover – Delaware Department of Transportation crews were on the job overnight and this morning, plowing and salting roads to make them safe. Their efforts are being hindered, however, by temperatures in the single digits and strong winds.   Temperature below 10 degrees make salt less effective at melting ice and snow. High winds cause snow to drift back over areas already plowed.
As a result, a Level 1 driving emergency remains in effect today.  Motorists should stay off the roads unless their travel is absolutely necessary.   Roads will be icy in spots and secondary, and suburban streets will be snow covered in locations. Bridges, ramps and other elevated surfaces may be slippery.
As the day progresses and daylight returns, DelDOT will be in a better position to assess the road network and advise state officials on appropriate driving precautions.
Written on: January 22nd, 2014 in Alert Messages, Safety, Weather Related Notices
DelDOT takes every reasonable precaution to minimize or prevent any damage to public or private property during any of its operations. However, if your property was damaged, please call 1-(800) 652-5600.
Written on: January 22nd, 2014 in Alert Messages, Safety, Weather Related Notices
As they perform their snow removal duties, DelDOT's crews must necessarily stop for bathroom, meal and occasional rest breaks.  During snow events, DelDOT crews frequently work long shifts into the late night or early morning hours.  Driving large, heavy vehicles under adverse road conditions requires intense concentration and can be physically and mentally exhausting.  If drivers stop their vehicles on the roadside or are parked at a local business, be assured the break they are taking is richly deserved.