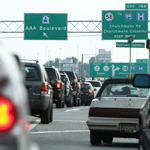 Facebook Twitter Flickr YouTube RSS Feed
DelDOT Ready For 'Most Significant Winter Weather Event Of The Season.'
Written on: March 2nd, 2014 in Alert Messages Safety Weather Related Notices
Dover – The National Weather Service (NWS) has issued Winter Storm Warning in Delaware, effective 9 p.m. Sunday night through 4p.m. on Monday, for what is being characterized by NWS officials as the "most significant winter weather event of the season." The forecast predicts snow accumulations of more than six inches, with the greatest amounts of 10-14 inches expected in central Delaware. Precipitation is forecast to begin as rain tonight and convert to snow after midnight. Based on weather forecasts for tonight and tomorrow, it is likely the State of Delaware will issue a State of Emergency with a level 1 driving warning starting tonight.
DelDOT crews will be fully mobilized tonight and throughout the storm, with more than 450 pieces of equipment on the roads statewide.
DelDOT is urging residents to prepare for the storm by obtaining essential items, including medications, food and batteries, in advance of the expected precipitation.
Because the forecast is for snow to fall at a rate of as much as 1″ – 2″ per hour, it will be difficult for DelDOT plows to stay ahead of the accumulation on primary roads. For this reason, secondary and minor roads may not be attended to until the snowfall stops some time tomorrow.
With the storm likely to start as a rain event, it will not be effective to pretreat roads with brine today. Brine washes off roads when it rains.
Further updates on storm updates and preparations will be issued late in the day as weather updates are provided. Information updates are available at www.deldot.gov or www.dema.delaware.gov.
Direct links to weather stations and traffic cameras:
Weather Stations:
View real-time weather conditions from our 18 weather stations.
These automated stations measure everything from air temperature, to wind chill, to surface and subsurface temperatures.
https://deldot.gov/traffic/map.ejs?tab=Weather
Snowfall amounts:
DelDOT has 18 sensors that automatically measure snow. The snowfall totals are updated hourly during snow events.
Here is a link to the page, listing all of the sensors: https://deldot.gov/public.ejs?command=PublicSnowfallAccumulation
Traffic Cameras:
View real-time road conditions by viewing any of the more than 130 live traffic cameras from throughout Delaware.
New Castle County: https://deldot.gov/public.ejs?command=PublicCameraDisplay&county=1
Kent County: https://deldot.gov/public.ejs?command=PublicCameraDisplay&county=2