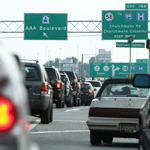 Facebook Twitter Flickr YouTube RSS Feed
Archived Posts From: 2014
Written on: March 10th, 2014 in Archaeology Updates, US301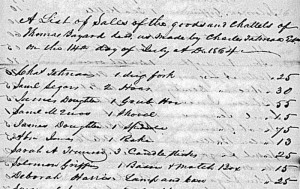 In the course of researching African American life in St. Georges Hundred for the Dale site alternative mitigation, the Louise Berger Group came across the probate records of Thomas Bayard, who died in 1864. Bayard was a farmer who lived just east of Odessa, Delaware, a prosperous man who owned a dozen horses, an "old pleasure carriage," six silver tea spoons, and a French silver watch. He was one of the two richest African Americans in his part of Delaware, probably one of the ten richest in the whole state. When he died, he left a will calling for his whole estate to be sold, including the land, and the money divided among his heirs. Probably this was his children's own wish — probably they wanted to move to the city or study for the ministry, so the farm was sold to further their ambitions. This made his estate sale a big event. The whole contents of a prosperous, up-to-date farm were auctioned off, from the cows to the bed sheets, and the whole neighborhood turned out to bid. The record of the sale lists 193 lots sold to 36 different bidders, with a total value of $400.
Perhaps the most interesting thing about the sale is that the bidders were about equally black and white. Fifteen African-Americans brought something home from the sale, along with 21 whites. Six of the bidders were women, one white and five African American. The document shows no sign of segregation, as black and white names are mixed together in haphazard order. They bought some of the same things, too. The women bid mainly on household items, although one bought a beehive, but the black and white men bid on everything. A wealthy white man bought some of Bayard's bed sheets and pillow cases. In the small section above (the sale spills across six pages), Harris, Brinckley, Segars and Griffin are African American families, but Stevens, Chambers, and Doughten were whites. Surely this was one of the most thoroughly integrated events in the history of Delaware up to that time.
What could bring blacks and whites together in America? A bargain.
Two of the quilts in the section above are also intriguing. Quilts typically sold for a dollar or two, but two of Thomas Bayard's quilts sold for $5.00 and $4.70. Those must have been very fine quilts indeed to have brought that price from these practical farm folk. Some woman in Thomas Bayard's household must have been an ace quilt maker. The valuable quilts were bought by Joshua Brinckley, who was married to Bayard's daughter Eliza, so perhaps he and his wife were determined to keep grandma's best work in the family.