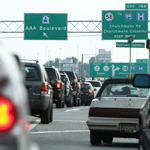 Facebook Twitter Flickr YouTube RSS Feed
Recognize Danger Zones #snowDE
Written on: January 4th, 2014 in Alert Messages Safety Weather Related Notices
The Delaware Department of Transportation has predicted a 30 percent to 40 percent chance of freezing rain after midnight and early Sunday morning. Also, ice and snow from the Jan. 3 storm remain on some of Delaware's primary and secondary roads — in addition to most of its minor roads and in subdivisions. If you must drive tonight, please be aware of these especially dangerous situations and drive appropriately:
Intersections

Slow down before reaching an intersection. Scan all directions for cars and pedestrians. If you're having trouble, they most likely are, too. After a stop, accelerate slowly to get moving again.

Hills

When approaching an icy hill, pick a path that will allow the most traction. Head for unpacked snow or powder where you'll get a better grip. Build speed gradually before reaching the hill.

Curves

Reduce speed before entering a curve. Any sudden acceleration or deceleration while turning may cause a skid. Controlled speed and smooth steering will help prevent wheels from skidding on a turn. If tires lose their grip, release pressure from accelerator; stay off the brake and turn your front wheels toward the direction you want to travel.
Tags:
#snowDE