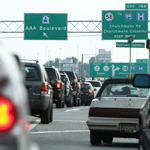 Facebook Twitter Flickr YouTube RSS Feed
What To Do If You Get Stuck #snowDE
Written on: January 3rd, 2014 in Alert Messages Safety Weather Related Notices
If your vehicle becomes stuck in snow and ice, please follow this advice from the AAA:
Do not attempt to free your vehicle by using raw power. Rapid or forceful pressure upon your accelerator will often result in your vehicle digging its wheels into a deeper rut.
Use smarts and finesse instead.
First, clear snow away from the tires. Then, to improve traction, spread sand, cat litter or some kind of abrasive material around the drive wheels. Finally, shift the car into low gear, and apply slow, gentle pressure to the accelerator.
If you are unable to free your vehicle, and you are in a life-threatening situation, call 911. If your situation is not life-threatening, and you must travel, please call the appropriate emergency operations center.
Sussex County Emergency Operations Center: (302) 855-7801
Kent County Emergency Operations Center: (302) 735-3474
New Castle County Emergency Operations Center: (302) 395-2700
Wilmington Emergency Operations Center: (302) 576-3914
Tags:
#snowDE