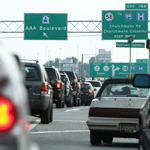 Facebook Twitter Flickr YouTube RSS Feed
Archived Posts From: 2014
Written on: January 3rd, 2014 in Alert Messages, Elkton Road, Ellendale, Georgetown, I-95, I-95 Delaware Toll Plaza, I95/SR1 Interchange, Indian River Inlet Bridge, Kent, Milford, Millsboro, New Castle, Railroad Crossings, Route 1, Route 26, Route 40, Route 54, Safety, Sussex, US113, US301, Weather Related Notices
As of 4:07 a.m., the Delaware Department of Transportation reports that all of its snow-removal crews are active, plowing and salting roads while precipitation continues to fall on New Castle, Kent and Sussex counties. Four to six inches of snow lie upon roads in New Castle . Four to seven inches of snow lie upon roads in Kent. And two to six inches of snow lie upon roads in Sussex. Crews are focusing their efforts on clearing and treating primary roads and bridges. The National Weather Service has issued a Winter Storm Warning statewide. Such a warning means significant amounts of snow, sleet and ice are expected or occurring. Strong winds are also possible. This will make travel very hazardous.
Written on: January 3rd, 2014 in Alert Messages, Elkton Road, Ellendale, Georgetown, I-95, I-95 Delaware Toll Plaza, I95/SR1 Interchange, Indian River Inlet Bridge, Kent, Milford, Millsboro, New Castle, Railroad Crossings, Route 1, Route 26, Route 40, Route 54, Safety, Sussex, US113, US301, Weather Related Notices
As of 12:20 a.m., Delaware roads are covered with snow as deep as four inches in parts of New Castle and as little as half an inch in parts of Sussex. All DelDOT snow-removal crews are busy, plowing snow and spreading salt on primary roads, secondary roads, bridges and bus routes.