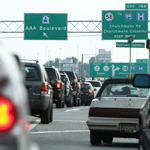 Facebook Twitter Flickr YouTube RSS Feed
Prepare Your Vehicle For Risky Travel #snowDE
Written on: January 2nd, 2014 in Alert Messages Weather Related Notices
As snow falls throughout Delaware, drivers should avoid unnecessary travel. But, if you must drive, the AAA advises that drivers take these precautions:
Clear snow and ice from your vehicle's roof, hood, windows, trunk and any other surface covered by debris. Not only will clearing snow and ice from your vehicle improve your ability to see while you drive. It will also prevent debris from blowing off of your vehicle and onto the windshields of vehicles driving nearby.
Use an ice scraper to remove snow and ice from external mirrors in addition to all windows.
To ensure that you can see as well as possible, clean the inside and outside of your windows with a rag and cleaning solution, especially if you smoke.
Be sure that you windshield defrosters and rear-window defrosters are in good working condition.
Check the condition of your windshield wipers. If they are not in good shape, replace them with blades appropriate to the season.
To avoid carbon monoxide fumes, do not warm up your car in an enclosed space — such as a garage.