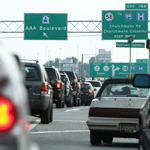 Facebook Twitter Flickr YouTube RSS Feed
Archived Posts From: 2013
Written on: March 7th, 2013 in Archaeology Updates, US301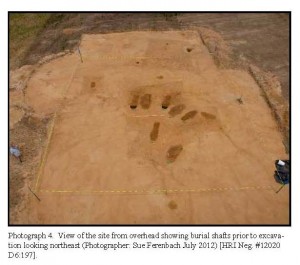 After months of behind the scenes efforts, Hunter Research, Inc. is able to announce the discovery of a small unmarked cemetery at the Elkin site.  The State of Delaware has specific laws regulating the discovery of unmarked human remains.  A discussion of these laws can be found at the Department of State Division of Historical and Cultural Affairs' website http://history.delaware.gov. A small distinct hill located northwest of the Elkins A site limits was included for investigations during the Phase II investigations. Excavation Unit 17 identified a feature that was thought at that time to be a large structural post, since no artifacts were recovered from the fill. The Phase II report recommended stripping of the knoll based on the topography and the potential for outbuildings and/or an unmarked cemetery, even though few artifacts had been recovered from the area as a whole.
In the last week of June 2012 Hunter Research removed the plowzone from the small hill to further investigate features discovered during the Phase II investigations.  Stripping of the plowzone revealed between six and eight potential grave shaft features facing east-west. These potential grave shafts were assigned letter designations A through H. These suspected unmarked graves were immediately reported to the Director of the Division of Historical and Cultural Affairs of the Department of State, and to representatives from DelDOT. Hunter Research, Inc. was then instructed to test two of the potential grave shafts near the cranial region to establish whether human remains were present. Shafts "B" and "D" were selected for these initial investigations. Human skulls, surviving in good condition, were present in both shafts. These exploratory excavations were backfilled after placing plastic tarps over the remains so that it would be obvious where the remains were when and if excavations resumed. The burial area was then covered with a large plastic tarp and backfilled using a small backhoe.
All efforts were made by DelDOT to avoid the unmarked cemetery but the location, which was directly in the middle of the right-of-way and adjacent to a planned borrow pit, made this impractical. The unmarked cemetery along with a list of potential names was announced in local newspapers so that the next of kin could be notified.  No one came forward and a plan for the physical removal of the human remains was developed for DelDOT by Hunter Research, Inc. in close consultation with Dr. Ashley H. McKeown, Associate Professor with the Department of Anthropology at the University of Montana (Missoula), DelDOT, and the DESHPO.
 Burials
Written on: March 7th, 2013 in Archaeology Updates, US301
The lab at Dovetail has been very busy this month working through the large Houston-LeCompt collection. To date all of Phase I artifacts are washed and we have started cleaning Phase II materials and continue cataloging the Phase III collection. It was this process that spawned the idea of participating in the 'Small Finds' session at the Mid-Atlantic Archaeology Conference (MAAC) this weekend. Among the thousands of artifacts recovered from the Houston-LeCompt site were ornate, hand-painted buttons, brass furniture plates, handmade jewelry, and exquisite decorative ceramics.    These items were perhaps owned by the first inhabitants of the site during the second half of the eighteenth century.  One person associated with this site is Mary Houston, a widow who seemed to enjoy the finer things in life. When Mary's descendants bought the land back around 1900, once again the quantity of personal artifacts was represented in the artifact assemblage.  These elaborate items as well as some day-to-day personal effects such as toothbrushes, coins, shoes, and thimbles, will be part of a larger symposium that celebrates the 'small finds' of an archaeological collection.  It is often these smaller items that reveal the most interesting information on the personalities of the occupants of a site.
                                                                                                                                                                          Carved Bone Handles
Written on: March 7th, 2013 in Archaeology Updates, US301
Sometimes you wind up the fieldwork on an archaeological site with firm ideas about what you found, then get into the lab, look over your artifacts and change your mind. Work on an archaeological site is never really finished. Even when the original excavators are dead, somebody may decide to go through the notes and artifacts again and come up with new interpretations. After our first round of testing at Noxon's Tenancy, we thought the site had a very short occupation. There weren't very many artifacts in the plowzone, and they all seemed to date to around 1750. So we thought the site might have been occupied for a decade, say 1745 to 1755.
During the excavation we slowly changed our minds. The site has two wells, one used after the other had been abandoned, which seems to suggest a longer occupation that just ten years. We also found more artifacts than we expected. So when we left the field we were thinking in terms of twenty years, say 1740 to 1760.
As the artifacts are cleaned and cataloged we are changing our ideas even more. Several small artifacts have turned up that were made before 1740, and since colonial Delawareans did not usually carry many dishes with them to a new farm site, these artifacts may be telling us that the site is older than we thought. Several sherds of a kind of pottery called "scratch brown" stoneware have been found, probably made between 1720 and 1735. A single sherd of an even older type, buff-bodied earthenware with yellow glaze, has also been identified, and this was probably made before 1725. These few objects are not much to go on, but analysis of the finds is just getting under way. Since we still think the site was abandoned around 1760, it may have been occupied for thirty years or longer. Right now we would date the site to 1730 to 1760, but then again, we still have a lot of work to do.
Written on: March 7th, 2013 in Archaeology Updates, US301
The Route 301 archaeological project is abuzz with excitement this week as numerous archaeologists, including Michael Gall and Ilene Grossman-Bailey of Richard Grubb & Associates, prepare presentations for this week's Middle Atlantic Archaeological Conference in Virginia Beach, Virginia.  Michael and Ilene's presentation will focus on archaeological excavations at the Rumsey/Polk Tenant/Prehistoric Site an 18th-century settlement along the Sandy Branch in St. Georges Hundred.  We're all expecting a great turnout for a fantastic set of presentations on Delaware archaeology.  More news will be reported on the event in April's blog.
As a result of the archaeological excavations at the Rumsey/Polk Tenant/Prehistoric Site, Richard Grubb & Associates recovered over 25,000 artifacts!  It's an amazing collection indeed.  The collection contains broken dishes, bottle glass, clothing items, utensils, and LOTS of animal bones from food the former residents ate.  Artifacts range from very big to tiny.  Some of the artifacts are so small that excavated soil has to be water screened in order to collect fish bones, fish scales, egg shell, charcoal, and plant seeds, after which time the tiny artifacts are collected.  Such artifacts provide a wealth of information about the types of foods eaten by residents in 18th-century Delaware.  Once all of the artifacts are cleaned in the coming months, we expect to learn a lot more about the site's former occupants. 
More Lab Work