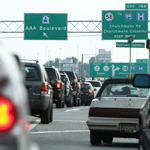 Facebook Twitter Flickr YouTube RSS Feed
Archived Posts From: 2012
Written on: August 16th, 2012 in Archaeology Updates, US301
300 and counting. That's the current number of features recorded at the Houston-LeCompt site. Some features are small, like post holes and post molds showing us fence lines and shallow refuse pits where remains were thrown away out of sight. Other features, though, are quite large and vastly informative. To date, we have found a root cellar, at least six outbuildings, a possible privy, a potential cistern, and a probable well. These deeper features contain an incredible amount of information in the form of architectural debris and everyday personal items that shed light on the tenants who once lived here. Watch as Dovetail archaeologist Michael Ecks describes our excavation of the Houston-LeCompt well.
Written on: August 15th, 2012 in Archaeology Updates, US301
Giddy-yup! Food consumption and horse riding were the themes this week at the Rumsey/Polk Tenant/ site, and we found food remains and "horsey" items galore.  Several large trash pits dating from the eighteenth and nineteenth centuries were excavated this week.  A few pits that would have been used to store food, ie. "subfloor cold storage pits" in particular contained lots of evidence of the types of animals raised, ridden, and eaten on the farm.  Objects such as a stirrup and a horseshoe  revealed the former residents rode horses, an expensive commodity at the time, and one that required riding skills and equipment, horse stalls, and paddock enclosures.  Riding horses also needed to be continuously shoed by local blacksmiths, which created an added expense to horse ownership. These finds will be researched and may be dated to give us more clues about when horses were used at the site. Careful excavation by crew members also recovered tiny egg shell fragments–likely from chicken eggs– delicate fish bones, and teeth, leg, foot and shoulder bones from pigs and cows. The fish may have been caught in the nearby creek or were bought at the local market.  Domesticated chickens, pigs, and cows were likely raised by the tenants on the farm.  Extra meat produced during seasonal livestock slaughter was probably bartered for other goods with neighbors or local shop keepers, a common practice during the eighteenth and nineteenth century that strengthened social and economic ties between community members. 
Written on: August 7th, 2012 in Archaeology Updates, US301
This week at the Rumsey-Polk site, archaeologists finished  measuring, mapping, describing, drawing and photographing the site's 530-plus "features" including a possible house, wells, several pits, and over 400 post holes showing house and fence lines. Excavation began on some of the pits with artifacts on the surface and the possible house. Initial excavation has revealed that some of the features are very shallow. Over 200 years of farming and plowing has removed and mixed up the upper portions of some of the pits, making the survival of the shallow stains denoting the locations of the former structures that much more remarkable. Sampling these features, even if shallow, can provide a lot of information. Each feature may be dated to a specific period when it was used and filled in. The information from features should allow us to reconstruct changes to the Rumsey-Polk site over time and let us know more about the various tenant residents. Artifacts and animal remains from the features give us clues about what they were doing, what kinds of activities they were involved in, what they were buying – whether locally made or imported, the changing farming techniques or farming materials in use, and what kinds of animal or plant foods they were eating. Volunteers like Jim and Mary Atkins of the Archaeological Society of Delaware are providing critical assistance to our crew.
Written on: August 6th, 2012 in Archaeology Updates, US301
Boy, we are having fun now! This week's activities at the Houston-LeCompt site comprised of creating a full site plan map and beginning feature excavation. The location of each of our 250+ features was captured, through the use of a total station (a digital transit), and the data was then used to draft a field map. Later, this same raw data will be used to generate a CAD-based plan of the entire site. What was just a random group of circles, squares and postholes magically transformed on paper to reveal building footprints, refuse disposal areas, and fence lines. Amazing! Different occupations are beginning to appear through the physical remains, including several dwellings, outbuildings, and three large circular features in different areas of the site that may be a well, cistern, and privy. Auger tests prove that each of these three features are indeed quite deep and contain an abundance of artifacts and architectural debris, but more excavation will help decipher their use. This is where the good stuff lives!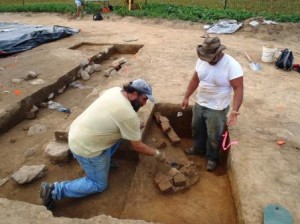 As we continue to excavate the site, we are fortunate that our close proximity to Boyd's Corner Road renders this site extremely accessible.  We had a DelDOT-sponsored media day on Wednesday, August 1st, attended by several newspaper, radio and television reporters. In addition to reporters, we have had many volunteers and visitors, ranging from those who just want to tour the site to others who want to get down and dirty! The young and the young at heart have come out to help us trowel and screen, and each has had a good time finding treasures. We encourage others living in the Middletown area to send us an email to arrange for a visit (mecks@dovetailcrg.com). We are working for another five weeks, and we would love to have you!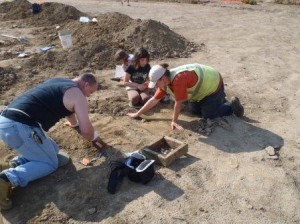 Written on: July 30th, 2012 in Archaeology Updates, US301
This week at the Rumsey-Polk site, archaeologists continued to measure, map, describe, draw and photograph the site's cellar holes, pits, posts, wooden sills, and remains of former structures made and used by the 18th and 19th-century tenant farmers (photo).  Over 240 of these "features" were meticulously and carefully documented to enable archaeologists to understand what these features are, when they were made, and what we can learn from them. This documentation and mapping must be done before we can dig the best features. We also had a visit by DelDOT representatives.
DelDOT Representatives
Written on: July 30th, 2012 in Archaeology Updates, US301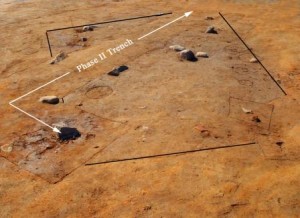 What a difference a week makes! Over the past week at the Houston LeCompt excavation, most of the mechanical stripping has been completed revealing myriad features, and many intriguing artifacts. It looks like the site core contains the main house cellar, at least six possible outbuildings, a potential well, and a historic sheet midden. While the individual features are certainly intriguing, exposing all of these features in plan has definitely given us a much better understanding of the layout of this farmstead and how the historic occupants of this tenant house lived and worked. Moreover, we are starting to grasp how the farm was modified over time due to technological improvements and changes in the residential composition. For example, the carriage house may have been replaced by a garage in the early-twentieth century. Preliminary evidence suggests that the carriage house was located behind the main house, while the possible garage was placed much closer to Boyd's Corner Road, showing distinct changes in landscape use over time.
We were visited by staff from the Delaware Department of Transportation this week so we could share our preliminary results with the project sponsors. We also had several members of the general public stop by. While some made plans to come see the site, others stopped by for an impromptu visit after driving by the road and wondering: "What in the world are they doing?" Whether their interest was spawned by the sight of our large, open expanse of our fenced area or their curiosity on why people would be on their hands and knees in a dirt patch in 100+ degree weather is not known….
The really exciting part of our work comes next week, when we will start digging into our exciting features starting with the house cellar. When Archaeological & Historical Consultants conducted their stellar Phase II archaeological work on this site in 2010, they exactly pinpointed the center of the root cellar and excavated a trench diagonally down the center. Their data will greatly help in our analysis. Tune in next week to see what we find!
Written on: July 23rd, 2012 in Archaeology Updates, US301
This week at the Rumsey-Polk site, archaeologists worked through the heat and rain to document more "features" – cellar holes, pits, posts, and wells made and used by the 18th and 19th-century tenant farmers.  We found one type of feature that is rarely preserved, remains of wooden sills that once supported "earthfast" houses and sheds.  Earthfast structures had wooden foundations that decayed faster than buildings with stone or brick foundations. 
In the next few weeks we will record and map more than 525 features identified at the site — and then excavate several of the best ones  to  learn more about  the lives of the people who lived at the site during the 18th and 19th century.  One of the more interesting artifacts found last week was two fragments of  a  tortoise shell patterned teapot  dating to the mid-18th century. Native American artifacts found this week included two spear or dart points, a 9,000 year old jasper Amos type  and a 8,000 year old bifurcate, which remind us that Native Americans hunted and collected food at the site for thousands of years before Europeans arrived. Despite the heat, students and teachers from the Federal Highway Administration Summer Transportation Institute toured the site and  joined us in a search for more artifacts.  Volunteers from the Archaeological Society of Delaware also visited and toured the site.
Written on: July 23rd, 2012 in Archaeology Updates, US301
The last week of work on the Elkins Site saw a gathering of historic preservation specialists from the Delaware Division of Historic and Cultural Affairs, including State Historic Preservation Officer Timothy Slavin.  This meeting enabled the team to share ideas with other specialists and to discuss interpretations and strategies for the site.  Meanwhile, the Hunter Research historians have been following a trail of archival clues to help us identify past land uses and the people who occupied the Elkins site during the 18th century.  Colonial land records have led us to the conclusion that what we now know as the Elkins farm property was divided into two farmsteads of approximately 100 acres each during the first four decades of the 18th century.  The boundary between the two 100-acre tracts has proven somewhat elusive because the old boundary markers, mostly oak and hickory trees, are long gone. After some extensive analysis of the "metes and bounds" (the descriptions of the boundary lines in the deeds), we are now fairly confident that the area under current investigation is located on the northern 100-acre tract and that the boundary between the two tracts was just east of where we've been digging.  A key piece of evidence is a remarkable deed drawn up by surveyor George Da Keyne in 1716.  This deed recorded the conveyance of the southern tract from John Greenwater, a yeoman, to John Poullart (or Pullar), a weaver.  Da Keyne embellished the deed with beautiful drawings of a compass and caliper, an unusual flourish. The drawings remind us of pen-and-ink styles common to Europe's Late Gothic period.  Da Keyne no doubt meant to convey his skill as a surveyor, but simple trigonometry proves that the metes and bounds do not come close to forming the closed polygon shown by the accompanying map. Errors such as these, which are common to colonial deeds, were no doubt introduced by topography and surveying technique; they simply reflect the state of the art at that time, not incompetence.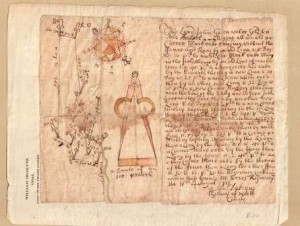 Land Survey by George DaKeyne of the John Greenwater Property. August 16, 1716. Courtesy the Delaware Historical Society.
While we are not yet certain of the 18th-century occupants of the Elkins site, we now have two leading candidates: 1). the Greenwater family from circa 1707 to 1741; and, 2). the McCool/Merriss family from 1741 to 1793.  John Greenwater, Sr. was a Welsh immigrant who arrived in the colonies in the late 1690s. He was involved with the establishment of the Welsh Tract Baptist Church in Newark in 1701.  Greenwater appears to have settled on the northern tract between 1707 and 1716 accompanied by his wife Elizabeth Patterson Greenwater and son John Jr. , who inherited the property after his father's death in 1722.  John Greenwater Jr. continued to own the farm until 1741, when he sold it to John McCool, Sr., a planter, who had two years previously purchased the southern tract.  John McCool, Sr., and his family are of considerable interest since their ownership coincides with the many mid-18th century ceramics and artifacts being found at the site.  So far we've traced four generations of the McCool family to the property: 1). John McCool, Sr. and his wife Sarah; 2).  John McCool, Jr. and his siblings Thomas, George and Elizabeth; 3). Mary McCool Merriss, the daughter of John McCool, Jr., and her husband John Merriss, a blacksmith; and 4). the Merriss children Benjamin, Richard, Sarah and two other girls as yet unidentified.  We're looking forward to compiling more demographic data on these families to help us to develop the site's historic archaeological contexts.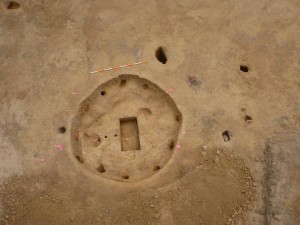 The mysterious pit from above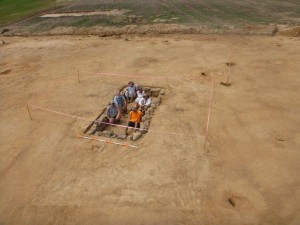 Written on: July 23rd, 2012 in Archaeology Updates, US301
At the Houston Le-Compt site we have met the enemy, and the enemy's name is……plow scar! Work continued for a third week, and we have moved from digging sample units to mechanically stripping the plow zone from the 0.8-acre site core. After the main house burned in the 1930s, the area became an agricultural field that was plowed, and  plowed, and plowed again. This activity left thousands of deep plow scars across the entire site. Plow scars are long shallow troughs left behind when a plow digs deeply into the earth while churning up the soil, leaving a linear dark stain. Plowing over the past 80 years has left an indelible mark on the archaeological record. The deep cross-cutting by the plow ran directly through all of the features left behind by past activity. Sometimes a single feature was cut by a myriad of plow scars, thus almost obliterating its original shape.
Despite very muddled and complex soil conditions, the Dovetail team continued to tease out exciting details on this site. In addition to dozens of post holes, we have located the remains of what may be three buildings, including the root cellar of the main house. Although we have not yet begun excavation of this feature, an abundance of brick, stone and artifacts across this area are a sign of great things to come. Other features we have found include brick piers, what may be a rear yard sheet midden, and a dark stain where many horseshoes were found. Possibly a carriage house that was mentioned in archival records? We will spend the next week finishing our backhoe stripping and creating a site map, with feature excavation beginning in the weeks to come. Now if we can just get past those plow scars.

Johnie Sanders, Morgan MacKenzie, and Nathan Sims begin to uncover the root cellar.
Written on: July 17th, 2012 in Archaeology Updates, US301
Fieldwork concluded this week on the Elkins site, with work focusing on bisecting the suspected post holes across the site and finishing the larger prominent features.   As could be expected, some of the suspected postholes indeed turned out to be historic posts, while others are now interpreted as "non-cultural" disturbances caused by tree roots or animal burrows.  Having sorted out which is which, we can now start to connect the dots, and, we hope, to the discern the configuration of fences that probably delineated garden and yard areas. Dismantling the stone side walls of the root-cellar revealed that crushed red brick mixed with loam was placed between the large cobbles during construction, evidently to prevent the otherwise dry-laid stones from slipping out of position.  An entrance became apparent in the southwest corner of the root-cellar with a step at the base, implying that there was an entrance into the cellar from outside the house. The large circular feature has now been fully excavated, and although it remains puzzling, we now have additional data to help us work out what it is.
The rectangular excavation seen on the photo was cut by us through the center of the pit to examine the stratigraphy below the pit, and is not part of the original construction.  The pit feature has an approximate diameter of 15 feet and extends three feet below the plowzone. The large post holes, positioned every three feet around the perimeter of the base of the pit, contain smaller posts ranging from four to six inches diameter and angled 10 degrees inward. Rocks originally thought to be positioned under each post are actually wedged under and over the posts to prevent them from shifting or falling inward.  The slabs recovered from the upper center of the fill may be pieces of one larger broken slab.  No other artifacts have been recovered from this enigmatic feature. So we are still wondering: what is it?  We have had several visitors to the site with interesting ideas (see last week's post), but none are as yet completely satisfactory.  A competing possibility to a wolf trap/pit is a "field root pit" type of root cellar used to store staples such as potatoes, carrots and turnips.  Field root pits are often rectangular but can be circular.  Some also have peaked roofs.  As always your thoughts, are helpful and welcome.