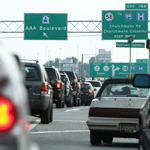 Facebook Twitter Flickr YouTube RSS Feed
Archived Posts From: 2012
Written on: September 25th, 2012 in Archaeology Updates, US301
The end has arrived! This was Dovetail's final week at the Houston-LeCompt site, and what a glorious week it was. We finished excavation at the house cellar, explored our three wells, and took some amazing aerial images capturing the site. All in all, our two-month effort has resulted in an astounding amount of data on the Houston's, tenant farming, and changing technology and landscape configuration in rural Delaware. Mary Houston's circa 1770s home had a partial brick foundation laid in flemish bond, and her log structural system was clad in weatherboard. An attached kitchen had a wood-lined root cellar. The home was demolished in the 1870s, and the cellar was filled in. A new, wood frame post-in-ground tenant home was built on top of the old cellar. This house was removed in the 1930s. Mary Houston's late-eighteenth century well had a wood frame, but it was filled in by the end of the eighteenth century. The exact reason is unknown, but it may have something to do with the repeated flooding we encountered during our work! A second well was built closer to the main house; it, too, was wood lined using massive slabs of timber fastened to corner posts. The latest well, installed during the 1870s, tenant period utilized brick robbed from the Houston's cellar as well as a wooden barrel to form a shaft. This same well then became the repository for architectural debris when the tenant house was destroyed. Beyond features, the artifact recovery at this site was amazing. Over 100,000 artifacts were found during all phases of work. Incredible! The Houston's and the later tenant farmers really liked "stuff"…
The videos below were captured during our final week of work. The first is a short snapshot of the latest-dating well at the site. Installed by tenant farmers working land owned by James LeCompt, this well dates to the 1870s and was built using robbed Houston house materials. Note the intact barrel at the bottom!
The second video was taken from 50 feet above the ground surface and shows the spatial layout of the wells, outbuildings, roasting pits, house cellar and root cellar, as well as Boyd's Corner Road and finishing with a view of what will soon be the Route 301 corridor.
We at Dovetail want to thank everyone who helped make this dig possible. Goodbye, Houston-LeCompt site! We will miss you.
Kerri S. Barile, Ph.D., RPA
President
Dovetail Cultural Resource Group