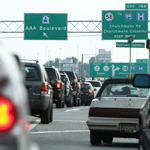 Facebook Twitter Flickr YouTube RSS Feed
Archived Posts From: 2012
Written on: September 24th, 2012 in Archaeology Updates, US301
Greetings from our new adventure, the Armstrong-Rogers site! On Wednesday, September 19th, archaeologists from Dovetail Cultural Resource Group commenced our data recovery on this eighteenth-nineteenth century historic site. Research indicates that the property was owned by the Armstrong family from 1739 until 1824 and the Rogers clan from 1824 through the 1850s. Tenant farmers then used this property for several more decades. An Orphan's court map from 1855 shows a two-story building with an interior-end chimney located here, a mere 100 feet north of Drawyers Creek. This incredibly detailed map and estate narrative provides a wealth of information on this area! The Armstrong-Rogers site was first identified by Hunter Research in 2010 and was the subject of Phase II testing by Louis Berger in 2011. Thanks to the stellar work of both of these firms, we were able to immediately relocate some exciting early finds at this site, including a stone foundation and artifact loci. Test units were placed in a checkerboard pattern across the foundation area, and several other units were put in place over areas of interest noted during the previous work. Through this process, a second stone foundation was noted northeast of the known feature. Interestingly, whereas the Hunter/Berger foundation is oriented perpendicular to the roadway, this newly identified foundation is oriented north-south. Hmmm….. Work will continue at this site for several more weeks, including completing the test units, stripping the topsoil, mapping all features, and then excavating the notable finds. The two stone foundations will be explored, and they may give us a better understanding of why Alexander Armstrong, James Rogers, and their families had building's erected so close to the creek. A curious site indeed, and we are very excited!
                            Dovetail archaeologists Jean Cascardi (front) and Aimee Bolinger (rear)
Written on: September 24th, 2012 in Archaeology Updates, US301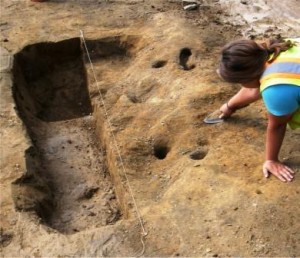 At the Bird-Houston Site we spent all week excavating features. On the newer part of the site, where people lived from around 1830 to 1920, several of the features are shallow pits filled with brick rubble. We think these are the remains of brick piers, a simple kind of foundation you can still see at many old farms throughout Delaware. When a building was abandoned or replaced, the intact bricks were often salvaged to be used in another project, and the broken pieces were tossed back into the hole. So shallow pits full of broken bricks are a common kind of archaeological feature. After we dug all the brick rubble out of one of these features, we got a surprise. The soil underneath was not clean subsoil. It looked disturbed, with many small patches of dark gray soil. After digging around for a while we figured out that the gray patches were tunnels. Our first thought was that these were groundhog tunnels, since groundhogs are the great tunnelers of rural Delaware. But the tunnels seemed small for groundhogs. Then we found these bones. They haven't been examined by an expert yet, but they certainly look like a lower jaw and broken skull of Rattus norvegicus, the brown rat. So the tunnels were rat tunnels, and the disturbed soil was evidence of a rat nest. This confirms our theory that the brick feature was an old foundation, since brown rats almost always live underneath buildings. Using clues from the wild species around a site to understand human culture is called environmental archaeology. So we have just done a little bit of environmental archaeology ourselves, using the presence of a rat nest to confirm the location of a building at the Bird-Houston Site.
                                            Rat bones found in the tunnels under the brick pier