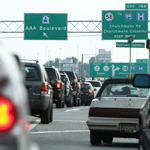 Facebook Twitter Flickr YouTube RSS Feed
Archived Posts From: 2012
Written on: September 5th, 2012 in Archaeology Updates, US301
Nine weeks down, one to go! In our second to last week of full-scale excavation at the Houston-LeCompt site, the Dovetail crew grew in number and moved a lot of dirt. Several archaeologists fresh off of the great work done by Richard Grubb and Associates at the Rumsey-Polk site came north to help us complete our dig. With the extra hands—and several days without rain and ensuing flooding — we were able to commence excavation of all non-post features. The circa 1770s Houston-era cellar continues to take shape, as we exposed more of the brick walls as well as a bulkhead cellar entrance on what was the east side of the house. Eighteenth, and early-nineteenth century fill deposits contained an amazing amount of personal artifacts including unique glass, enamel and brass buttons, gun flints, and even a mid-eighteenth century trade token. The Houston's were certainly people of means….or at least liked pretty things! Elsewhere we uncovered several architectural refuse piles, trash pits, and burn features, all of which continue to help us understand more and more about life here in the eighteenth through twentieth century.
Beyond the digging, this site has also continued to be an locus for modern anthropology, as volunteers and other guests continue to come by the site. Some happen to drive by and wonder what we are up to; others are long-time residents who are thrilled to help excavate history in their own backyard. Watching as a volunteer, young or old, finds their first artifact and realizes they are the first person to touch that piece in over 200 years is priceless. We only have one more week to finish up our dig. Wish us luck!
Volunteers, tourists and archaeologists work together to explore the site and share in the excitement of the archaeological process.