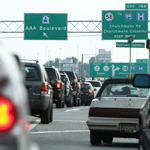 Facebook Twitter Flickr YouTube RSS Feed
Archived Posts From: 2019
Written on: January 9th, 2019 in US 301 Project Updates, US301
The Delaware Department of Transportation (DelDOT) announces that the new US 301 mainline will open to traffic on Thursday, January 10, 2019. The nearly 14 mile road will be opening in stages beginning after the morning rush hour with the new southbound lanes opening first.
For the safety of motorists and members of the media, a designated viewing area will be available for photo and video opportunities at the Warwick Road overpass of the new roadway located just to the west of the existing US 301 and Levels Road intersection (Royal Farms is located on the southeast corner of the intersection). Parking will be permitted on the shoulder of the overpass and safety vests are recommended.
C.R. McLeod, Director of Community Relations for DelDOT, will be at the location and available to answer questions beginning at 9:00 a.m.
Https://www.deldot.gov/About/news/index.shtml?dc=release&id=7465