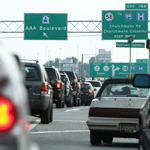 Facebook Twitter Flickr YouTube RSS Feed
US Route 301 Archaeology Update
Written on: July 2nd, 2012 in Archaeology Updates US301
More discoveries at the Elkins Site.
All the machine stripping was completed at the Elkins A site this week, and we are beginning to get an overall picture of the layout of this 18th century homestead. As well as the cellar hole, there are now two other structures, plus lots of pits and posts that we cannot yet make much sense of for the most part.  In the northeastern part of the site we have begun excavating the large circular feature identified last week.  The photograph shows how we have begun taking the soils out of the southern half of the feature, leaving a vertical profile in place.  At this point it looks as if we are looking at the top of a well, with a wide, roughly circular, "cone" sloping down towards the narrower shaft in the center.  When the well was filled up someone placed a neat stack of stone slabs, perhaps paving stones, right in the top of the shaft.  These are visible on the photo below the white bucket.  Probing suggests that the well is at least six feet deep, and we hope for interesting material down at the bottom.
We now also have evidence for a second building on the site.  About 20 feet west of the cellar hole we had been examining what we thought was a midden (trash pit).  More detailed investigation has now shown that it is in  fact a small rectangular building, with a slightly sunken floor and post supports at each end.  There is quite a lot of animal bone in the floor material, and this may give us a clue to the function of the structure.  It is oriented at 90 degrees to the cellar hole, strongly suggesting the two are contemporary.
The cellar hole itself has provided yet another surprise about our 18th century Delawareans, in the form of a stone with a hole in it.  Unlike most of the other stones in the cellar walls, it is not a cobble from the nearby Scott Run, rather it is a quarried stone from an as-yet unknown source.  As the photograph shows, there is a very clear straight circular drill hole down one side of the stone. Until compressed-air drills became practicable in the late 1800's, stone quarrying was usually carried out using the "hammer and tap" method that produces this typical feature on the stone.  Typically, two men with sledgehammers hit a steel drill into the rock, while a third man rotated the drill by holding it with a long set of tongs. What this stone is telling us is that somehow a piece of commercially quarried stone somehow found its way to the Elkins site in the mid-18th century.  What is the source of the stone?  How did it get here?  We plan to find out.