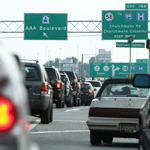 Facebook Twitter Flickr YouTube RSS Feed
Archived Posts From: 2012
Written on: June 14th, 2012 in Archaeology Updates, US301
The Elkins Archaeology site has begun excavations, and after the first week of work there are some amazing finds.  The first week of excavation has produced a good range of 18th century artifacts similar in type and distribution to those recovered during the earlier Phase II work.   One spectacular artifact was found.  This is a copper alloy disk which was attached on the back to a chain and was part of a "sleeve-link" (like a cufflink).  The front of the disk has profile portraits of King George the Second of Great Britain and his wife Queen Caroline.  We know this from the Latin inscription around the edge.  George II reigned from 1727 to 1760 (he was George III's father).  He and Caroline of Ansbachwere married in 1705 , and she died in 1737.  So this object must date to between 1727 and 1737.  What makes it "spectacular?"  Well firstly, it seems to be a rather rare kind of object: our research to date has not found many other examples. Our working hypothesis is that this is a commemorative item produced for the 1727 Coronation.  Secondly: it looks like a prestige object.  So what is it doing out here in central Delaware?  In fact, it fits in quite well with what we have been seeing at this and several of the earlier 18th century sites within the 301 corridor.  The high quality of many of the artifacts from these sites shows that the people living here, far from being self-sufficient isolated pioneers on the frontier, were well connected to the colonial and international trade networks of 18th century America, and were profiting from them.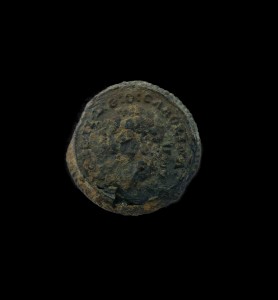 The shortage of rain that Delaware has been experiencing is making our digging task a bit harder right now: the soils below the plowzone get very hard and dry under these conditions, making it more difficult to dig and to see the subtle differences of color and texture that often show us where archaeological features like pits and cellar holes are located.  During the next week we will concentrating on the removal of plowzone from Elkins Site A with the machine and shovels, and identifying and mapping features as they are exposed in the underlying soils.
Written on: June 14th, 2012 in Route 54
As of June 14, 2012, work on the south side related to sidewalks, entrances and handicap ramps is ongoing and is expected to be complete Friday, June 15. Work is being performed to install the signal detection loops and pedestrian signal poles at each of the signalized intersections. This work is expected to be complete by Friday, June 22. Upon completion the final electrical connections to the signal cabinet bases will be made to activate the new signals. Work is continuing on the landscaping around the storm water management ponds. Work is ongoing throughout the project limits to clean up debris, remove the silt fence and topsoil and seed adjacent to the curb and sidewalk.