Posts Tagged With: "#snowDE"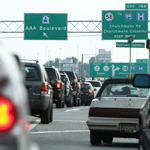 Facebook Twitter Flickr YouTube RSS Feed
Written on: January 3rd, 2014 in Alert Messages, Elkton Road, Ellendale, Georgetown, I-95, I-95 Delaware Toll Plaza, I95/SR1 Interchange, Indian River Inlet Bridge, Kent, Milford, Millsboro, New Castle, Railroad Crossings, Route 1, Route 26, Route 40, Route 54, Safety, Sussex, US113, Weather Related Notices
Across Delaware, DelDOT crews continue to battle drifting snow and frigid temperatures. The major challenges now are winds that blow the snow back into the roadways and low temperatures that cause the road salt to be less effective. Primary and secondary roads statewide are covered in a thin layer of packed snow and ice. Despite […]
Read More
Written on: January 3rd, 2014 in Alert Messages, Weather Related Notices
The Delaware Department of Transportation takes every reasonable precaution to minimize or prevent any damage to public or private property during any of its operations. However, if your property was damaged, please call 1 (800) 652-5600.
Read More
Written on: January 3rd, 2014 in Alert Messages, Safety, Weather Related Notices
If your vehicle becomes stuck in snow and ice, please follow this advice from the AAA: Do not attempt to free your vehicle by using raw power. Rapid or forceful pressure upon your accelerator will often result in your vehicle digging its wheels into a deeper rut. Use smarts and finesse instead. First, clear snow […]
Read More
Written on: January 3rd, 2014 in Alert Messages, Safety, Weather Related Notices
Road temperatures throughout Delaware are below freezing and falling toward zero, a range in which salt melts ice and snow less effectively. Adding to the hazards on state roads is continuous drifting in New Castle, Kent and Sussex counties. As a result, driving conditions remain hazardous — even on the primary roads that the Delaware […]
Read More
Written on: January 3rd, 2014 in Alert Messages, Elkton Road, Ellendale, Georgetown, I-95, I-95 Delaware Toll Plaza, I95/SR1 Interchange, Indian River Inlet Bridge, Kent, Milford, Millsboro, New Castle, Railroad Crossings, Route 1, Route 26, Route 40, Route 54, Safety, Sussex, US113, US301, Weather Related Notices
As of 4:30 a.m., the National Weather Service reports that steady precipitation is ending. No new accumulation is expected, although snow flurries could linger for a couple of hours. Temperatures might drop as low as 0 as the day progresses. Temperatures well below freezing and high winds will likely contribute to hazardous driving conditions. Snowfall […]
Read More