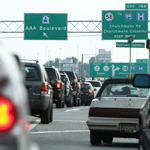 Facebook Twitter Flickr YouTube RSS Feed
Archived Posts From: 2018
Written on: October 22nd, 2018 in SR141
Delaware Department of Transportation
Traffic Alert – For Immediate Release
Office of Community Relations
Contact: Bud Freel, New Castle County Legislative Liaison
Phone: (302) 577-5100
Cell Phone: (302) 547-6215
SR 141/I-95 Interchange Project Will Require Nighttime Lane and Ramp Closure for Milling and Paving
WHEN: 8 PM until 5 AM on Sunday, October 21, 2018 through Thursday, October 25, 2018
In the event of inclement weather, the lane and ramp closures will occur at 9 PM on Friday, October 26, 2018 until 8 AM on Saturday, October 27, 2018
WHERE: I-295 Northbound to I-95 Northbound between Exit 5 and past SR 141 Northbound Interchange AND Closure of Exit 2/SR 141 Southbound to I-295 Northbound.
WHAT: DelDOT's announces to motorists that there will be lanes closed with a shifting of traffic on I-295 northbound to I-95 northbound and the closure of the ramp for milling and paving.
Detour: Motorists traveling on SR 141 southbound will follow detour signs to westbound Commons Boulevard, right onto Churchmans Road, enter onto SR 1 southbound and merge to I-95 northbound.
Detour signage will be posted for motorists.