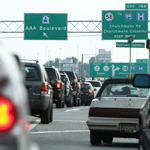 Facebook Twitter Flickr YouTube RSS Feed
SR141/I95 Ramp Interchange Project
Written on: October 4th, 2016 in SR141
SR141/I-95 Ramp Interchange Project
September 9, 2016
The contractor, Mumford & Miller, Inc. have been driving piles and constructing concrete structures for the new bridges on SR141 southbound and northbound. They continue the clearing and grubbing of SR141 southbound, northbound and at ramps G and F in preparation for the bridge widening. This week, the contractor will start removing the steel girders from the old bridges. The work will create multiple closures during the evening hours. I included the traffic alert below.
LANE CLOSURES:
Tuesday evening, starting at 6PM, the ramps from SR141 northbound and southbound to I95 northbound will be closed. They will also start closing lanes on northbound 95. One lane will remain open through the night. Work will finish by 5AM on Wednesday morning.
Thursday evening, starting at 6PM, the ramp from SR141 southbound to I295 northbound will be closed until 5AM Friday morning.
Motorists should expect traffic on SR141 southbound and northbound to be reduced to one lane in the construction area during the hours of 9AM to 3PM, Monday thru Saturday.
Ramp Exit 5B (NB I-295 to NB SR141) remains closed until late June 2017. Northbound SR141 should use Exit 5.