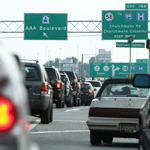 Facebook Twitter Flickr YouTube RSS Feed
Restrictions for lane closures on SR26 to be modified
Written on: June 13th, 2013 in Route 26
In an effort to balance impacts to the traveling public and local businesses with the need to facilitate ongoing overhead utility relocations, DelDOT has modified the hours during which lanes can be closed on SR26. For the rest of the month of June 2013, lane closures will be restricted to the following hours:
Monday – Thursday: 5am to dusk.
Friday: 5am to noon.
No lane closures will be allowed from noon, Friday through Monday morning.
These hours will remain in effect through June 30, 2013. From July 1, 2013 to September 30, 2013 lane closures will be restricted to the hours between 7 p.m. and 6 a.m., Monday through Friday morning. Lane closures will not be allowed on Holidays and Weekends during this period. DelDOT will monitor the impacts of lane closures both with local forces, and stationary and mobile cameras. DelDOT maintains the rights to modify the time restrictions based off of delays.
Tags:
SR 26