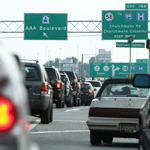 Facebook Twitter Flickr YouTube RSS Feed
Archived Posts From: 2012
Written on: November 14th, 2012 in Archaeology Updates, US301
Excavation of the cellar hole at the Elkins B site by Hunter Research, Inc. continues to produce a wealth of artifacts and information as we proceed towards the floor.  Items of interest thus far this week are a small lead bird shot, a host of faunal remains (including fish scales), a thimble and a half penny also known as a half pence.  The image on the obverse (or front) side of the copper coin is well worn and the reverse or back side is completely worn.  From what we can see, we have been able to determine the image on the front side of the coin faces right is that of King William III.  The back would have depicted the seated Britania facing left.  Because King William III is not accompanied by Queen Mary (who died of small pox in 1694) the coin must date to between 1695 and 1701.  No halfpennies were produced in England under Queen Anne from 1701 to 1714, thus earlier coins remained in circulation longer than normal and tend to be well-worn.  Given the amount of wear we estimate it was in circulation for around 30 years.  The presence of coins at all dating to the late 17th and first half of the 18th centuries along the Route 301 corridor are rare as bartering for goods and services was more the norm in this rural area.   

                                                                                Halfpenny-William-III
Written on: November 14th, 2012 in Archaeology Updates, US301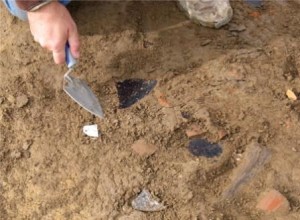 The crew from the Louis Berger Group is back in the field in Delaware, this time at the Noxon Tenant Site. The Noxon Tenancy is a small farm site dating to around 1750, in a field not far from Armstrong Corners. Since this spot was part of a huge property belonging to a wealthy speculator, the people who lived at the site must have been tenants.
https://deldot.gov/environmental/archaeology/us301/pdf/handouts/Handout_draft.pdf
We started our work on Monday. After digging a few more test units, we brought in a backhoe to remove the rest of the topsoil from the site. We were chased off the site by the Nor'easter on Wednesday afternoon and didn't get back to work until Friday. After a day and a half, we had exposed about half the site.  Removing the plowed soil exposed dozens of features on the site. These included what looks like a well, two small cellar holes, and several pits.  One of the features is what archaeologists call a "sheet midden", a wide, thin deposit of trash. These form when people just throw their trash out into a yard or down a slope, rather than burning it or burying it in pits. This one is full of pottery and animal bone, just the stuff for learning about the lives of the people who lived here 250 years ago.  We'll have the backhoe on the site again on Monday, finishing up this work and exposing more exciting things.

Pit Feature, Dark from all the Charcoal in the Soil
Written on: November 9th, 2012 in Archaeology Updates, US301
Well, November started out on a good note for Hunter Research, Inc.  The Elkins B site survived Hurricane Sandy and with each and every shovel full of soil from our cellar hole we are finding new and interesting artifacts which help us to better understand the folks who lived on this property in the first half of the 18th century.  Screening the cellar fill through 1/8 inch mesh has been difficult due to the sticky nature of the clayey silty soils which make up the majority of the fill.  In an effort not crush the tiniest of artifacts lying within the soil we made sure NOT to be aggressive pushing the soil through the mesh, saving what would not go through the screens easily for soil floatation.  Floatation involves the immersing of the soil samples in a large 55 gallon drum, at which point the heavy fraction (the heavier particles) sink to the bottom and are collected on window screen while the light fraction floats to the top of the water and is collected in a runoff bag.  The amount of material collected  was staggering, filling trays with thousands of tiny items, which the laboratory staff must now pick through on rain days.  Well while waiting for the site to dry out a bit on Wednesday we had our first opportunity to process some of the float samples and pick through a small portion of the heavy fraction.  To our surprise we are finding tiny seed beads made from glass and what appears to be ceramic.  The sample also contained more straight pins, egg shell, fish scales, bones,  bits of tin enameling, daub (burnt earth used between logs of the structure), and what appears to be burnt seeds!   
Feature
Written on: November 9th, 2012 in Route 26
DelDOT, Delmarva Power, and Verizon met this past Monday to discuss the impact of Hurricane Sandy on the start date of early action utility relocations on SR 26, coordination of relocation work with other ongoing projects, inspection issues and other outstanding issues affecting the bulk of the Mainline relocations.
Click here to read the minutes from this past Monday's meeting. 
Written on: November 8th, 2012 in Route 26
Editor's Note:  DelDOT continues to keep the public informed about The SR 26 construction project.  In this post, we share the biography of SR 26 Project Manager Tom Banez:
 Tom Banez has been a resident of Dover, Delaware since 1966, and spent most of his summers in North Bethany.  He graduated from Dover High School in 1981,  began to work for DelDOT in 1985, and joined DelDOT's Road Design section in 1987 as a Highway Engineering Technician.  He graduated from Delaware State University in 1991 with a Bachelor of Civil Engineering Technology degree. As an engineer at DelDOT, he was responsible for the design of the SR404A Bypass to the north of Bridgeville, as well as the SR26 improvement project in Bethany Beach that was completed in 2001. As a project manager in Project Development South,  he took on the management of the SR26 Detour Routes and SR26 Mainline projects in 2002, and has been working on these projects ever since. Additionally, he manages a squad of engineers and a consultant engineering firm (Century Engineering), who work on various other highway engineering projects throughout Kent and Sussex County in Delaware.   Mr. Banez is a registered professional engineer in the state of Delaware.
Written on: November 7th, 2012 in Route 26
The following is an update (as of November 7, 2012) on the detour routes for the SR 26 construction project:
Current road closures/restrictions for the SR 26 Detour Project: Burbage Road is closed from Substation Road to Windmill Road; intermittent lane closures on Beaver Dam Road; Burbage Road is expected to open on November 9, 2012; and Windmill Road at Atlantic Avenue will close on November 12 and remain closed until January 7. Motorists should follow posted detour routes.
Current Work Schedule & Progress: This project was initially delayed due to a lack of utility coordination, and fortunately we have worked through those issues. Currently, we are constructing the drainage on other phases of the contract at the same time we are constructing the pipe crossings and road reconstruction on Burbage Road (Phase 1). We are not able to work on any phases that are within the signed detour route for Burbage Road, so it limits where we can work. While it may appear that we are not making progress on the construction of the drainage, as much of the work is underground or adjacent to the roadway, we have actually accomplished a significant amount of work in the last few months. There will be more visible progress when we begin the actual road widening work.
Tentative schedule for the project over the coming months: Presently working on Phase 1 of the contract (Burbage Road); this will be complete November 9th and we will begin Phase 2 (Windmill Road). Concurrently, we are constructing the roadside ditches and other drainage along the other phases of the contract. We are adjusting the schedule as much as we can to expedite the work, however our anticipated completion date is July 2013.
What we are doing to lessen inconvenience to residents/motorists and business impact: Where possible we are using lane closures to perform much of the work that maintains through traffic on all roads. The original plan was to close the road, but we are attempting to work under lane closures in order to lessen the impact to the general public.
Work occurring to expedite the completion of the project: We are working multiple phases concurrently and have revised the scope of work from a conventional road reconstruction to a road recycling method that is performed much faster.
Written on: November 2nd, 2012 in Route 26
DelDOT is currently determining the work hours for the SR 26 Mainline Project, and would like to incorporate night time work hours into the contract, in addition to daytime hours. In doing so, DelDOT is required to seek property owners' input as to their desire to have the contractor work during night time hours or not. Night work surveys have been mailed to those property owners whose land abuts SR 26.
DelDOT asks that those who receive the survey in the mail respond by November 15, so that DelDOT receives a clear indication if night work is acceptable to residents and businesses that abut SR 26. Please note that if DelDOT does not receive a night work survey response by November 15, 2012 it will be taken as a YES response for night work to occur. " The final decision to include night work or not in the SR26 Mainline Project will be based on the majority of the responses received by the Department.
Please advise those you may know who live along SR 26 that it is very important that they respond to the survey. This is a chance for their voice to be heard on this important aspect of the project.
Written on: November 1st, 2012 in Archaeology Updates, US301
Greetings from Armstrong-Rogers! The crew worked hard this week to examine features uncovered during our backhoe work. We are continuing to learn a lot about this great site and are refining our interpretations with every stroke of the trowel. The stone and brick foundation has been cleaned to reveal a square outbuilding with a brick floor and an adjacent stone circular feature, perhaps a cistern. To the east of this foundation, though, is one of our site's "mystery" areas. See the video below to watch Aimee Bolinger and Kevin McCloskey with Dovetail describe an intriguing feature on the site.
Written on: November 1st, 2012 in Archaeology Updates, US301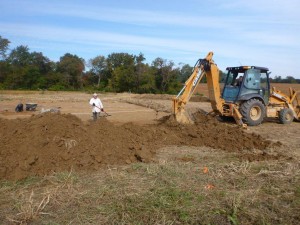 Hunter Research, Inc. has moved on to the Elkins B site 7NC-G-174, CRS# N14524.   
https://deldot.gov/environmental/archaeology/Elkins/brochure/ElkinsOnePageHandout.pdf
We started Data Recovery investigations with screening of additional sample plowzone units located over the cellar hole which was discovered during the Phase II investigations.  A sleeve link (now more correctly termed a "linked button" in the light of recent research on these artifacts) depicting King George II and Queen Caroline, possibly a Coronation commemorative of 1727 and matching another found earlier this season, was recovered from sample box 19.  The amount of artifacts recovered from the sample boxes is relatively low compared to the other sites from the 301 corridor that also date to the first half of the 18th century.  This sampling of the plowzone was followed by plowzone stripping in two areas, one measuring 100 feet square and the other 40 feet square.  The smaller of the two areas, lying closer to the Scott Run, was clean with only a few non-cultural features (such as tree roots and a rodent den) present.  The larger area revealed a host of prehistoric and historic features.  Prehistoric features appear to be a series of storage pits of indeterminate dates.  One pit contained a quartz scraper at the top of the subsoil.  Historic features consist of the large cellar hole nine feet by 11.5 feet (image), a few refuse pit (which currently appear to lie within a small post-in-ground structure), and scattered postholes.  The features have been mapped, photographed and assigned context numbers for recording.   Excavation of the features begins next week and the weather forecast looks good!   

Feature at the Elkins B Site
Written on: October 31st, 2012 in Archaeology Updates, US301
Wow, the beginning of the Elkins B cellar hole has not been a disappointment for the crew from Hunter Research, Inc.!  We started with the darker soils across the north end of the cellar hole removing between four and six inches.  We have recovered close to two thousand historic artifacts from the top of the cellar hole.  There are many fish scales, fish bones, mammal and fish bones, egg shell fragments, freshwater mussel, oyster shell, burnt peach pit, daub, a brass clasp (with a "P" inscribed on it), a small lead shot, French and English type gunflint fragments, vessel glass (dark olive spirits and pale olive vial), wrought nails, white pipe stems and bowls (one with both a Robert Tippet cartouche and impressed "RT"  This combination is very rare!), tin enameled earthenware (pink and buff bodied) Nottingham brown stoneware, Westerwald tankard fragments (one with a partial royal cartouche…the upper part without initials), Hillegas Philadelphia redwares, buff Staffordshire ware, Midlands mottled, dipped white salt glazed white stoneware, some kind of slag?, thin brass wire (thread?) wound around something that has deteriorated and over 70 straight pins!  The fill is rather sticky.  We are processing the soil through the 1/8″ mesh until it is down to small balls which we are saving to float.  The prehistoric features are proving to be interesting as well.  As we had observed at the Holton-Cann site, we have a connected multiple pit feature which appears to have been located within a structure.  On Friday with the approaching storm Sandy, we decided to finish off the smaller features, cover the cellar hole with plastic and our tent (lowered) and anchor down our site trailer.  Now all we can do is sit back and wait for the storm to clear …and when it does we will be there!
Elkins B site