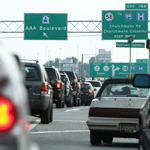 Facebook Twitter Flickr YouTube RSS Feed
Archived Posts From: 2011
Written on: November 4th, 2011 in Elkton Road
The repair work to an approach slab on the south end of the project is scheduled to occur this weekend.  The Contractor will be performing a minor traffic switch this week at Casho Mill Road and plans to close the Elkton/Apple Road intersection this weekend for paving.
Scheduled Completion Date: December 17, 2012
Written on: November 4th, 2011 in Indian River Inlet Bridge
Despite the adverse weather, another major milestone for the project was reached Friday evening, October 28, with the successful removal of the form traveler over the inlet.  The final form traveler removal now clears the way for many of the more conventional finishing activities.  There is still a considerable amount of work remaining, some of which will include barrier construction, finger joint installation, electrical and lighting work, University of Delaware instrumentation work, final stay adjustments, stay damper installation, placement of a polyester polymer concrete deck overlay, and tower crane disassembly and removal. 
Written on: November 4th, 2011 in Route 54
Phase 1 has been completed, which is all of the drainage, and are now in Phase 2.  Phase 2 consists of the widening on the south side of Route 54.  Excavation of the existing roadway has been completed, placement of the stone base, placement of the underdrain, and are continuing to place the electrical conduit.  Placement of the curb is scheduled to begin on November 7.  Once the curb is complete asphalt paving will begin.