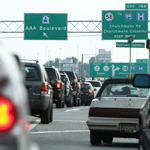 Facebook Twitter Flickr YouTube RSS Feed
Archived Posts From: 2011
Written on: September 26th, 2011 in I95/SR1 Interchange
Limited work activities such as clearing, and installation of erosion and sediment control measures
Christiana Mall Rd. Bridge: The pier and abutment wall work is complete and waiting for the steel girders to be delivered (Scheduled to be delivered on 9/27/11).  Other activities such as roadway construction and bridge painting activities continue as well.  We are working with Mall management to mitigate traffic impacts from the project for the upcoming holiday season.
Written on: September 26th, 2011 in Indian River Inlet Bridge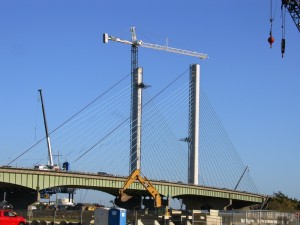 The final 10-foot closure pour over the inlet is expected to occur by early November.    Recent weather conditions (Hurricane Irene, and remnants of Tropical Storm Lee) have impacted the project and created some schedule delays. These delays could push some future weather-dependent activities into the early winter period thereby hindering construction efficiency towards the end the project.  The Department continues to work with the Design-Builder on modifications that will limit the future weather risks and allow for the opening of the bridge to traffic towards the end of the year.  The schedule will continue to be monitored closely and any changes will be reported.
Indian River Inlet Roadway and Approaches:  The contractor has placed the first course of hot-mix on the approach roads north and south of the inlet; foamed concrete placement is continuing in the south approach abutment area.
Written on: September 26th, 2011 in Route 54
Night work operations were extended through the month of September.  Day work is expected to resume on October 3.  The contractor  continues placement of the new drainage pipe.  A few remaining pipe runs cannot be completed due to conflicts with Verizon utilities.  Once the relocation is performed the drainage system will be completed.  The hot-mix wedging and shoulder overlay is complete on the north side of the road.  This work was necessary to insure the shoulder can accommodate traffic as we shift the travel lanes for Phase 2.