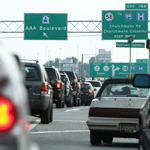 Facebook Twitter Flickr YouTube RSS Feed
Archived Posts From: 2011
Written on: June 16th, 2011 in I-95, I-95 Delaware Toll Plaza
Permanent striping operations continue on the "exit" ends of the toll northbound and southbound plazas.  Initial striping of the lengthy north approach to the southbound plaza (one half mile south of the rest area to SR 896) was scheduled for the week of June 13.   Acceptance testing for the new tolling systems was scheduled to be complete on Tuesday, June 14.  Installation of the remaining overhead signage, final striping, topsoiling, work on the overhead gantry, and punch list items will continue through the end of June.   The project is scheduled for completion in August 2011.
Written on: June 16th, 2011 in Indian River Inlet Bridge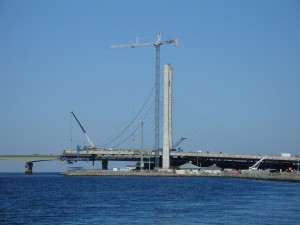 North main span stay segment 14 of 19 has been completed; south main span stay segment 13 of 19 to be completed this week.  Several concrete pours are scheduled this week including: north edge girder pour on form traveler, two deck pours on form traveler (one north and one south), south ballast area deck pour, north abutment deck pour, north ballast cell three (3) of six (6), and north approach span barrier concrete pours.  Work continues to progress as scheduled with the anticipated availability to traffic occurring by late 2011.
Indian River Inlet Bridge Approach Roads Phase II and Bridge Demolition
Traffic is currently in one lane in each direction in its final configuration for this phase of work.  The contractor is currently preparing to start excavation work on the new roadway approaches. The project is expected to be complete in mid-2013.
Written on: June 16th, 2011 in Route 54
Beginning Friday June 17, there will be a change in the Route 54 work schedule since the project will be continuing through the summer. The Route 54 project is to widen the roadway between Route 20 and the Mallard Lakes development – it will include improved left turn lanes, bike lanes and sidewalks. Allowing work to continue will bring the project to a close by June of 2012. However residents, visitors, and business owners are concerned about delays and, starting this week, the contractor will only be allowed to use lane closures from 6 am to 3 pm Monday through Thursday. Work can continue on Fridays, however it would be on the shoulders and not impeding beach-bound Friday traffic. When the summer traffic volume decreases, then the contractor will again work Monday through Friday.
Written on: June 16th, 2011 in Elkton Road
Amstel Avenue between Elkton Road and College Avenue in Newark will be closed starting on Monday, June 20, and end on Friday, July 15, pending weather.  The contractor will construct a box culvert, install water and sewer mains, construct ADA curbs with sidewalks, and pave the roadway.  The entire project is scheduled to be complete in December 2012.
Written on: June 16th, 2011 in I-95, I95/SR1 Interchange
The contractor is continuing to aggressively pursue work on the project.  Tasks include excavation for the stormwater management ponds, drainage installation, placing fill material for Ramp G1, and the abutment and wingwalls on the west side of SR 1.  The contractor is driving piling for the abutment on the east side of SR 1.  Rehabilitation work on the I-95 bridges over SR 1 has started.  Work is scheduled to be complete on this project at the end of the year.