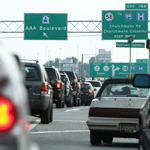 Facebook Twitter Flickr YouTube RSS Feed
Indian River Inlet Bridge – Update
Written on: June 16th, 2011 in Indian River Inlet Bridge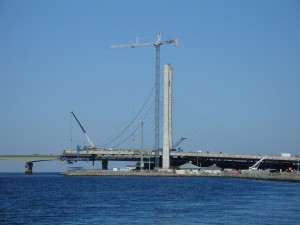 North main span stay segment 14 of 19 has been completed; south main span stay segment 13 of 19 to be completed this week.  Several concrete pours are scheduled this week including: north edge girder pour on form traveler, two deck pours on form traveler (one north and one south), south ballast area deck pour, north abutment deck pour, north ballast cell three (3) of six (6), and north approach span barrier concrete pours.  Work continues to progress as scheduled with the anticipated availability to traffic occurring by late 2011.
Indian River Inlet Bridge Approach Roads Phase II and Bridge Demolition
Traffic is currently in one lane in each direction in its final configuration for this phase of work.  The contractor is currently preparing to start excavation work on the new roadway approaches. The project is expected to be complete in mid-2013.